Lacrosse captain to play Division 1
Owen Corry has been playing lacrosse since fourth grade. His dad played lacrosse in high school and introduced Owen and his brother to the sport at a young age. They are now seniors at Glen Rock High School, still playing lacrosse. Owen will be attending the New Jersey Institute of Technology next year, a Division 1 lacrosse program. Owen mainly plays attack and midfield for Glen Rock, but at NJIT he was recruited as a midfielder.
In Glen Rock's semi-final playoff game of Owen's junior season, Glen Rock faced Kinnelon. Glen Rock had lost a few players to injury, forcing players to play positions that they have never played before. Owen stepped up, playing attack, midfield, and defense in that game, helping Glen Rock win 15-2. Owen scored four goals and assisted on one more.
Owen's recruitment process began before this game when an NJIT coach asked Coach Michael Escalante for Glen Rock's team roster. The coach was then at the Glen Rock's game against Kinnelon, one of Owen's best games. Owen and the coach stayed in contact ever since. Coach Escalante and the other coaches at Glen Rock made sure that NJIT knew about Owen's leadership on and off the field. Owen committed to NJIT in the summer of 2018, before his senior season.
This season, Owen got his hundredth point against St. Dominic. He has scored 27 goals and 23 assists this year with a few games left in the season. Owen has also won four faceoffs and recovered 43 ground balls.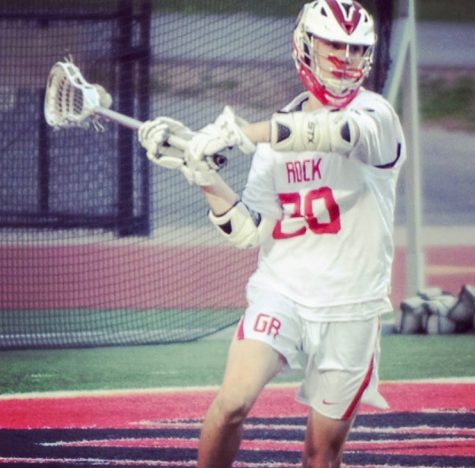 Over the course of Owen's career only one teammate has stayed constant: his brother John. Since fourth grade, Owen and John have been building their chemistry on the field.
"I always know were he is going to be on the field so I can just pass it and I know he is going to be there," Owen said.
Owen and John's connection on the field is known as the "Corry-brother chemistry" and has led to many goals and assists between them.
Owen has been one of the best leaders in the locker in both Glen Rock's lacrosse and in soccer programs. This fall, Owen was voted captain for his soccer team. His leadership skills and encouragement led the team to win their state and county tournaments. Owen was also voted captain for the lacrosse team along with his brother John, senior Justin Dounias, and junior Colin Consoli.
Coach Escalante and Glen Rock's offensive coach, Jim Egan, have built up Glen Rock's lacrosse program over the past few years. Coach Escalante has been the head coach for Glen Rock since 2016, and Coach Egan has been coaching Glen Rock since 2009. They have sent many players to Division 1 lacrosse programs throughout their years together. Dounias is committed to St. Joseph's in Philadelphia and Consoli is committed to Mount St. Mary's in Maryland.