The Best Slice In Town
Hang on for a minute...we're trying to find some more stories you might like.

John's Boy Pizza is not your typical pizzeria. It's a family-owned, well-known pizza shop with what many Glen Rockers would call, the "best slice in town". You walk into a long, narrow restaurant, filled with tons of photos of Glen Rock, sports and Italy, the home country of the owners, Umberto and Patty.
Umberto and Patty are two of the nicest people you'll ever meet, and so is their staff. They seem to have figured out the name of every person in Glen Rock, and always greet each customer with a smile on their face. John's Boy is also known for always rounding down the prices for meals, for example rounding down the cost of a few slices from $5.89 to $5.50, a practice that customers notice and appreciate.
Recently, John's Boy was named as one of the top eight "old-fashioned" pizza places in northern New Jersey. This title might be attributable to the long tradition that John's Boy has kept running since 1983.
Originally owned and operated by Patty's father,  the pizza place picked up many of the traditions it still holds today. Although Umberto grew up wanting to be a soccer player, he saw the pride Patty's  father had in his pizza place and wanted to continue in his footsteps.
John's Boy is different from many other pizzerias around town because despite its success, the pizzeria does not deliver. Many other local pizzerias rely on delivery because it brings in business over the weekend.
John's Boy, however, prefers a more personal touch.
"I want to have a relationship with my customers," said Umberto. "I want my pizza place to be different from the rest."
Unlike other restaurants that rotate chefs who make the pizza, Umberto is the only one at John's Boy who makes the pizza.
Despite the personal touch, comes with its own challenges. If he ever can't make it to work for some reason, the restaurant has had to close. Umberto said that he feels the customers deserve the best food and service, which he can't guarantee if he's not here.
Umberto's pizza is also handmade with fresh, high quality ingredients. His slices are also a lot more affordable than other pizzerias in the area.
About the Contributor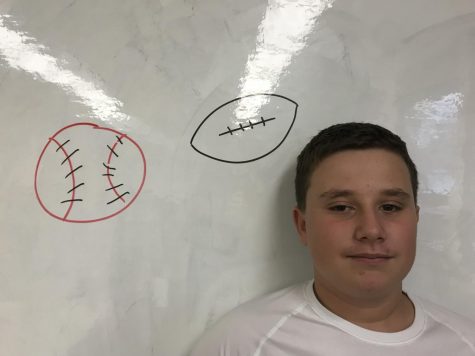 Rob Zamparelli, Copy Editor
Rob Zamparelli is a sophomore at Glen Rock High School. This is Rob's second year writing for The Glen Echo. Rob loves to watch and play all sports and...