New JSA chapter starts at Glen Rock High School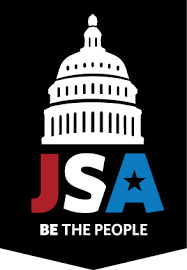 In 2019 civic participation and leadership skills are necessary.
Whether you intend to become involved in politics or not, leadership and communication skills will be helpful in any professional field. Organizations such as The Junior State of America organization (JSA) were created to help high school students improve in these essential areas.
This past December a chapter of the JSA was formed at Glen Rock High School. Alex Howe, a sophomore at Glen Rock High School, formed the chapter with goals to improve civic participation and debate skills at Glen Rock.
"I wanted to have a new outlet for debate at the school, as I felt Model UN and Debate club were good, but they didn't fully get speaking skills across to kids," Howe said.
This coincides with the overall mission of the JSA organization. The JSA website states, "The mission of the Junior State of America is to strengthen American democracy by educating and preparing high school students for life-long involvement and responsible leadership in a democratic society."
Howe wants to increase knowledge and interest in these subjects. The club, which recently had its first meeting in January, is open for participation. Howe believes the club can go in many directions. For example, the club can focus on more local issues and volunteer with a representative such as Josh Gottheimer, or they can talk about more national subjects which lead to more debates.
To form the club, Howe had to create a statement about what the club is, and what the club will do. Also, Howe had to have an adviser for the club, which is required for all clubs at Glen Rock. Michael Sherbin, a math teacher at Glen Rock High School, was asked and accepted the position of club adviser.
"I was kinda always into politics,¨ Sherbin said. ¨Alex Howe was looking for an adviser so they steered him in my direction."
Sherbin believes the club is off to a good start. He thinks there is a good group of kids who are motivated to practice and learn new skills in leadership and debate. Sherbin intends to let Howe run the meetings, but he will keep everyone on schedule and make sure the debates do not get too rowdy.
Ultimately, the goal of the club this year is to attend a spring conference or spring one-days. These events, such as one held at Princeton, will give the students a prompt on the subject and they will debate against other schools.
However, this will take considerable practice time, which is why the meetings are a vital part of the club. At these meetings, Howe forsees the club practicing debate skills and coming up with ways to volunteer in the community, all of which will build the leadership and communication skills that are at the base of the club and the JSA organization.
JSA is an American organization created in 1934 with high school chapters throughout the United States. The organization is student run, making it the largest student run organization in the United States. JSA organizes many conferences, conventions, and political events throughout the year in their ten different geographical regions.
Howe heard of JSA at a summer camp he attended, where many kids he met had participated in the club. They raved about the JSA conferences, and Howe thought it was interesting, leading to him starting a chapter at Glen Rock High School.
While Howe follows the JSA mission statement, he believes the chapter at Glen Rock can be open to additional ideas. The goal of the club will still be to improve leadership, communication and debate skills, but Howe believes there are many ways to do.
"It's wherever we want to take it," Howe said.