Coach Schick named boys' soccer Coach of the Year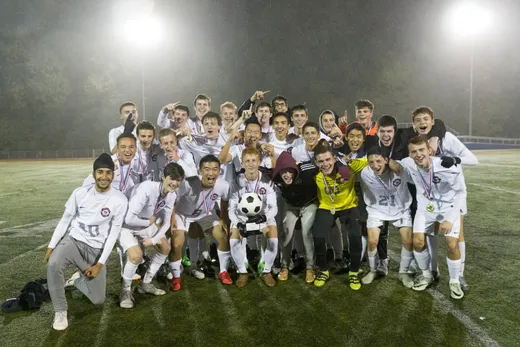 While the boys' winning season was cut just shy of their final goal, the team has something else to celebrate. Its head coach was named by NJ.com as the Coach of the Year, beating out leadership from teams across New Jersey.
Casey Schick has been the coach of the varsity soccer team for three years, and he attributes some of his success to the entire team buying into each player's specific role necessary to win.
Schick had a way of realizing that everyone has many talents and he made his players use those talents by assigning specific jobs to certain people throughout the season. Schick claimed that in doing that was part of the reason the team was so successful this year. He wanted everyone to do one thing so everything else would fall into place.
Schick also said that his team worked hard, kept themselves determined, and devoted themselves to winning. He explained that this mindset was how the team made it all the way to State Finals. He said his team was the reason he won the top coach of the year.
Schick credited many players in the team that stood out this year.
Schick credited Ben Zakoski and how he proved himself a successful player by scoring nine goals in five games in the clutch Bergen County tournament. Four of his nine goals in the tournament were game-winners.
Schick also credited many other players in the interview. He said that Nick Rogers, a center midfield scored 22 goals and assisted on 8 others. And Connor Daly, another center midfield, held the team high scoring 15 assists.
Schick said, "Our entire defensive core, led by Owen Corry and Noah Beverin, helped shut out some of the best teams in the state."
One main Schick was the reason for the team's success was all around leadership.
He said, "Every single player on the team bought into their team philosophy, which is why the team accomplished what they set out to do."
The team of players also had some unsung heros that might have not gotten a lot of press time.
Schick credited John Corry, the teams "workhorse" in the midfield position. He scored some big goals for the team and started off a strong season.
Another player, Josh Kim, was another reason for the team's success this year. He was one of the outside backs getting forward into the attack but also shutting down some of the best midfielders and forwards in the state.  
But the main reason the team made it all the way to states was pure leadership and determination. Leadership kept the team united all the way and players credited before by Schick portrayed themselves as a leader both on and off the field. The team developed a sense of determination and devotion that kept them working hard and focusing to achieve success.