Teachers should communicate about assessment dates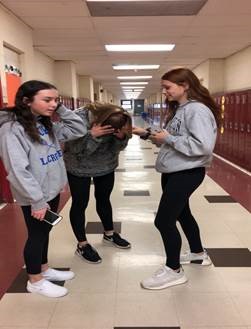 With the burden of schoolwork in the back of students minds, the addition of multiple tests falling into a singular day can create more stress and anxiety among us students. Most teachers, especially in different subject areas, seem to fail to converse with each other about upcoming quizzes and tests, resulting in pressure and anxiety put onto students.
When numerous exams fall on the same day, teachers need to communicate with one another to limit this problem.
In our town, parents push their children above and beyond their limits sometimes so they can succeed in life. Despite the incredible expectations that some parents have for their children, 54 percent of American parents felt that too little pressure was being put on their children. This may be why there are high expectations for students in our school. Parents, most likely, are unable to fully understand the stress because they are not living through it, so they continue to raise expectations for us.
At times this pressure comes to a boiling point when numerous assessments fall on the same day.
An example of this added stress can be seen with students who have almost their entire day filled with some forms of tests. This can be even worse for athletes who come home late and barely find the time to even do their homework.  
Many students participate in extracurriculars and after-school activities. This includes sports, the arts, and other endeavors. These can take up a whole night, leaving little time for homework, much less studying for a test or quiz. Especially with multiple exams on one day, students are forced to make a choice… which class should they study for?
Awareness is the first step into fixing this school-wide problem. This issue needs to be recognized not only by students but by parents and teachers, too. Yet considering that most parents think too little pressure is being put on their children, they may be having trouble shifting perspectives.
About half of American parents say that parents can never be too involved when it comes to their children's education. While students would be the first to appreciate their parents' efforts, it could be better spent by addressing problems that are truly weighing on their students.
The solution doesn't have to be fewer tests. They just need to be spaced out to allow students the time they need to prepare, and more importantly, learn.
Parents could help ease this crunch of assessments by suggesting solutions to schools. For example, a calendar could be placed outside of the main office, showing when a test or quiz is going to be given to a certain grade and class. Teachers find themselves passing this office when they go to sign in every morning. Also, whether it be going to a class, or heading to lunch, it only takes a couple seconds to recognize the upcoming assignments for the students.
The result of this would be overall better learning and retention fo the activities they love to do. In addition, parents will see a weight-lifted off their children's shoulders, holding off the stress of the real world for a few more years. Without multiple quizzes or tests on a single day, they are also given time to enjoy outside life. With teachers pursuing this solution, it will undoubtedly lead to a better learning environment and stronger education for students in school.