Glen Rock football season comes to a close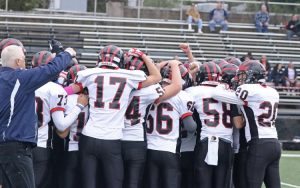 After a tough 4-5 season in 2017, Glen Rock hoped to move past this losing season and go back to the winning of the 2015 season.
Glen Rock started off strong with three wins, the first in Waldwick and then two at home against Garfield and Palisades Park. They then drove into Rutherford to play against the team also tied for first place in their division with a 3-0 record. Glen Rock was defeated by Rutherford 40-7 loss, but put the game behind them and moved on to their games against Manchester Regional and Lodi with two consecutive wins.
Winning five of their first six games put them in a good position to end the season with only two games left, against Lyndhurst and Hawthorne, which the team thought they must win if they were going to the playoffs. But even after losing both games, they got into the playoffs as the seventh seed facing the second seed, Westwood, in the first round.
Throughout the season Glen Rock had five captains. Head coach Jim Kurz said, "I think that goes back to our senior leadership. Those five guys along with the other five guys really set the tone. I think any of the ten seniors could have been captains and we even had some juniors that were worthy of captains. Leadership certainly wasn't an issue this year."
Captain Ashton Dalessio led the Panthers in receiving yards and total touchdowns. He was also second in rushing yards behind quarterback Greg Schlett. Dalessio scored in any way he could. He had receiving, rushing, return and defensive touchdowns.
Schlett had over 1,000 passing yards and 13 passing touchdowns while rushing for five more.
Senior wide receiver Aedan Clark was second to Dalessio in receiving yards and touchdowns, particularly after a big game against Manchester Regional, scoring three touchdowns and getting over 100 receiving yards.
Senior offensive and defensive lineman and captain Pierce Tuttle led the team in sacks and fumble recoveries, bringing one back for a touchdown against Garfield. Tuttle was also second in tackles, behind linebacker, Sam Pintel.
Senior captain Justin Douenias made four field goals and 15 extra points. Douenias also had two interceptions, one fewer than team leader junior Owen Stephenson.
Glen Rock's winning streak ended after the sixth game against Lodi. Glen Rock was tied with about 11 minutes left in the first half. After recovering a fumble, Glen Rock was ready to score. After a play action pass, senior captain Seve Bilbao came out to the backfield to catch the ball on a screen pass. With blockers ahead of him, Bilbao went untouched until the goal line where he was tackled into the end zone. Glen Rock's fans celebrated until Bilbao didn't get up and held his elbow in apparent pain.
After being driven to a nearby hospital, Bilbao learned that he had dislocated his elbow and would be out for the remainder of the season. Junior Mike Maurice and senior Sam Pintel stepped in to fill his role, but the team was different without Bilbao. On the field he was one of the best leaders on the team and his presence was missed. Off the field, Bilbao continued to help the team by helping coach the younger players.
After a strong 3-0 start, Glen Rock went into Rutherford to play the eventual champions. After an injury riddled week of practice, the Panthers came into the game with Owen Stephenson starting at quarterback due to an injury to starting quarterback Schlett. In his first career start, Stephenson threw for 14 yards and two interceptions. Glen Rock lost that game, 40-7.
After that game Glen Rock went on to win their next two games. They put the loss behind them and moved on. Coach Kurz said "I thought our attitude was great. We had a team meeting early the next Monday before school and we got out our frustrations, and I think we did a really nice job of bouncing back the next couple weeks against Manchester and Lodi. We reset the tone nicely after a loss. It's not easy to do that and we were able to regroup pretty quickly and get back on track."
Glen Rock, a big underdog, played against Westwood in the first round of the playoffs. After a slow start, Glen Rock was down 20-0 just before halftime. Before the teams went to the locker room, though, Glen Rock drove down the field and scored a quick touchdown. After they had the extra point blocked, Glen Rock was down by 14 going into halftime.
Opening up the second half kicking off, Glen Rock came out hungry. To start the half, Coach Kurz called an onside kick that was recovered by Glen Rock sophomore Ty Scherer. Schlett helped Glen Rock drive down the field, capping it with a pass to Dalessio in the back of the end zone.
Douenias kicked off the ball downfield, but senior Andrew Sarna hit the ball right out of the returner's hands and into his teammate's, Jackson Paige's, waiting hands. Glen Rock again drove down the field but this time an interception in the end zone ended the drive.
Westwood went down to make a field goal to go up 23-13 and win the game. Glen Rock's season ended short of its goal. Westwood eventually lost in the semifinals.
The team is ready to move on to next season but will not forget about this one and the ups and downs of the year.
"You just got to keep work and work and work," Kurz said. "It starts now. The preparation for next season has already begun and the more time you work, the better you are going to be."
Glen Rock huddles up awaiting kick off against Lodi. Glen Rock would go on to win this game behind three total touchdowns from junior quarterback Greg Schlett. This game, however, would be senior Seve Bilbao's last game after dislocating his elbow on a touchdown pass from Schlett.