High school welcomes new Physics teacher
The high school science department welcomed a new Physics teacher this school year.
David Gamarra has been teaching for five years, previously working at Wayne Valley High School and Saddle Brook High School. He "fell into" teaching when there was an opening for a math teacher at the New Jersey Institute of Technology Consortium of Pre-College Education.
"I had a knack for connecting with students and breaking down complex concepts," he said.
Gamarra also attended and tutored NJIT. He liked how the teachers were helpful and generous.
"If you're willing to put in the work there's always someone there to give the extra push," he said.
He also noticed that college and high school students are similar, and he likes teaching both.
He stated that at NJIT, he had more opportunities to improve the course, due to lab coordinators that prep demos and labs.
However, he enjoys teaching high school physics because it allows him to test out new evidence based teaching techniques.
He said, "Teaching high school physics affords me the opportunity to spark the minds of the next generation of scientists and engineers."
When it comes to teaching, Gamarra's motto is that if students aren't engaged and interested, it's time to take the risk to try something new.
"Students learn in many different ways and that small change can make a big difference," he said.
It also allows teachers to challenge themselves with new methods of instruction.
Even though Gamarra teaches physics, a difficult subject to most students, he does not get frustrated. Sometimes he is surprised that students forget some of the concepts they learn in math, but he goes over the topics.
"This simply means that I have to spend time review some basic concepts which I am more than willing to do because students will get a deeper appreciation for the topic," he said.
Additionally, he tries to keep the class as fun and low-stress as possible. For example, Gamarra likes to do an inertia demo where he lays flat on a lab table, and a student strikes a railroad cutout resting on his chest.
"I know being ready with a positive attitude and fun activities for the class helps tremendously."
One of the things that Gamarra has noticed about Glen Rock is the thorough enthusiasm about sports and school spirit. Overall, he likes the people in the school, citing that students and staff members have been friendly and helpful in settling him into the district.
About the Writer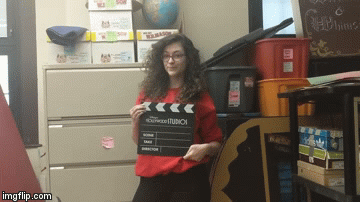 Chloe Siohan, Chief Copy Editor
Chloe Siohan is a senior at Glen Rock High School. This is her third and final year writing for The Glen Echo. Her favorite subject in school this year...