Emma Mangino wins Varsity Tennis Counties Match
On September 23rd, Emma Mangino won the tennis counties game.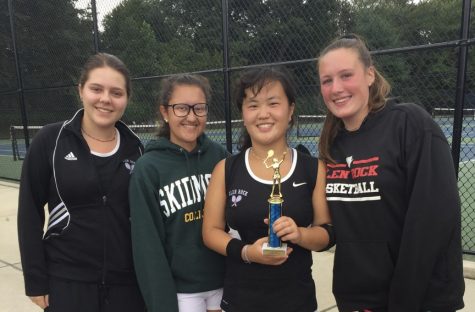 Mangino, a senior, and a captain of the varsity tennis team, plays the position of third singles. The game was very close, with the second set going into a tiebreak. "She was a really tough competitor and it could have gone either way," Mangino said. "I honestly thought I would lose."
That was her fourth match that weekend, which helped her make adjustments to succeed in this particular one. "I was more nervous than I usually am, having gotten this far in the tournament last year definitely helped me." Emma did not expect to win counties, even though her coaches, Bonnie Zimmermann and Kelly Dowell, predicted she would during preseason.
Her teammate, senior Charlotte Arehart said, "Everyone was really proud of Emma, we were all sobbing of joy for her." Magino was thankful that her team was there to support and cheer for her during the match.
"It went really well. I don't think both of us were playing our best, but we both fought hard," she said.