Girls soccer is defeated in county game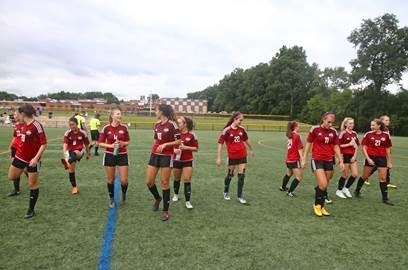 On Friday, September 28, the girls varsity soccer team played Midland Park in their first county game. Counties is similar to a tournament where teams from around the state play each other based on their league record. Glen Rock currently sits at a 5-2-1 record after all of their games this season.
The Glen Rock High varsity girls soccer team season is coming into full swing. The season is coming to an end at the end of October and the players have been motivated to keep the season going as long as possible.
The game did not go as planned. Glen Rock got off to a hot start. A big goal from Tess Rooney in the first half gave Glen Rock a lead going into the second half. In the first ten minutes of the second half, Midland Park scored two unanswered goals to give them a lead. Sophomore, Rylie Duncan, said "after their second goal, we lost momentum and it was hard to recover."
Quickly after, Glen Rock tied the game up with Yuki Shibuya's score. The team had hope swinging back in their favor. Shortly after, Midland Park scored. The game ended with a score of 3-2 and Glen Rock's hope of winning the counties ended earlier than expected.
A few players explained that counties was a big deal. They said their main goal is to go far in the state playoffs and get a chance to win it all. They are also striving to win their league which which will be exciting based on their upcoming schedule.
These players also told me that the recent practices have been intense recently. The coaches have been working on drills including formations, running, skill-work, and passing so the team can be ready for any opponent that is ahead of them.
Sophomore, Marni Flack, said about her captain, "Noemi Dicori has kept intensity levels high during practice and motivates the team at work harder." Dicori has been a leader for this team all year. Players said she has become a great role model to them and they look up to her as if she is a coach.
Now that the season is coming to its final games, it could be some of the seniors' last times playing competitive soccer. Noemi told the team that they have to not be scared of making mistakes and enjoy playing because it's the end of the season.
Lauren Patasnik said, "I feel like everyone has been playing for the seniors at this point. We've been getting close to reaching our goals and are ready to kill it."
The varsity soccer team is looking forward to their push for the state championship and are excited to play. They have a good record, but most importantly, they have became a family.