Glen Rock's teenage heroes
Would you put your life or the life of a loved one in the hands of teenagers? The same teenagers who have homework, social pressures, and are going through the stress of growing up? Would you trust your life to the teenage EMT volunteers of Glen Rock?
In an emergency situation, the responders have to be level headed and resourceful. These traits may not be found in a typical definition of a high school student. But the teen Glen Rock EMTs are not typical high school students. They have gone through an intensive training program in order to learn the skills needed in order to save lives. They are trained to function in an extensive range of different possible scenarios. They might be young but they know what they're doing.
Teen EMTs have the same responsibilities as any adult volunteer. Their only difference is that the teens cannot go on a call alone or cannot be alone with a patient without adult supervision. Otherwise, they are treated as any other member of the EMT team.
"We do treat them like adults here. They are equals," Lieutenant Jennette Montgomery of the Glen Rock EMT volunteer squad said of their younger volunteers.
TRAINING
How did these volunteers go from being a average teenagers to being treated like an adult and working in medical emergencies? They do not easily gain the trust to responsibility treat citizens. The training process to become an EMT just as extreme for both teens and adults. They attend intense classes at the Paramus EMS center. Some volunteers dedicated their summer to their training. Others paced there training throughout the school year over the course of 6 months.
Senior Emily Cornell has been an EMT since she was a junior.  She began her training in July and completed it in August 2016.  "For my class they really taught us, it was both days of the weekend from 8-4. And then two nights a week for four hours, so it wasn't crazy but it was a lot of work, I think it really shows responsibility," Cornell says. "It's definitely worth it.  As an EMT you can see the immediate effect of helping people. And you get to physically help people instead of just learning."
Another high school senior volunteer on the force is Laura Yuan. Unlike Cornell, she took a 6 month training period alongside her junior year of school. "My class was twice a week, from 6 to 10. And then you had weekend classes," Yuan said.
Sometimes on weekends they spent the whole day learning a specific chapter of the curriculum. Training courses during the school year also require more at home work for the students. The trainees got a textbook and also sign up one an e-learning website called Jones and Bartlett, where they had to complete modules.
Yuan described the course as a hybrid. "The instructors really didn't lecture. So there were very few times where you would sit down with a PowerPoint. The class was basically completely hands on," she explained. "The knowledge and the reading part you were supposed to do at home. Which is why they called it a hybrid class."
Becoming a Member of the Squad
The Glen Rock ambulance corp. pays for their volunteers' training classes. To enroll in the classes the volunteers contacted Glen Rock Recruitment Chairperson Carrie Hourican. "She told me what classes to sign up for, there's a website that you do it all through. She told me where to get my CPR training and this and that. She was very helpful and super assistive," says Elena Andreou.
Andreou became an EMT this year. She is a graduate of Glen Rock High School's class of 2013 and is a grad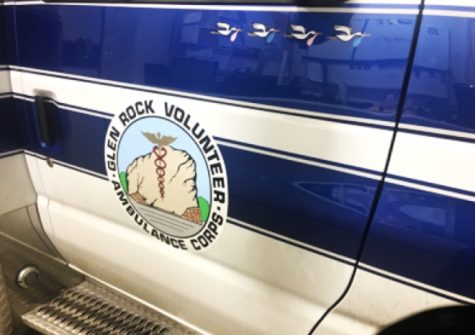 uate of Johns Hopkins University class of 2017. She will start attending medical school this coming August. Until then, she is home in Glen Rock and usually takes the EMT day shift. Though not a high schooler anymore, she too has to balance the busy schedule of school preparation, work, and saving lives.  
After hundreds of hours of training and 10 hours of hospital work, there is a small graduation at the EMS center for the students. Hourican often organizes for some senior members to come see the new members who will be joining the squad. Chief Ed Esposito has the new members come to the Glen Rock ambulance building to go over basic protocol and so they can get their uniforms, get their pager, and finalize their schedules.
"Before I even started the class I was already connected with the ambulance corps. And then you just have to pass your tests, get your EMT card, give it to the chief, choose a duty day and you're on," Cornell says.
Balancing the Schedule
It's already hard to handle the amount of work and stress given to high schoolers. Hours of homework, detailed projects, and studying for tests that can change their grade by a whole letter. Many of them do other extra-curricular activities one top of it all. Yuan plays varsity volleyball in the fall, volunteers at Valley Hospital, and is a member of the interact and other clubs. Cornell pole vaulted in the Spring track and field, and Bober has a role in the Winter musical every year. The teen EMTs have the same workload and partake in the same activities as their classmates, but they have the added responsibility of being on call for medical emergencies.
Every volunteer has to sign up for at least one shift a week, then one weekend shift a month. A normal shift is 11 hours, from either 6 am to 7 pm or 7 pm to 6 am. Teen volunteers only have to serve at minimum a three hours shift, but they often serve more than that. Normally, the high schoolers will go to school by day, and sign up for the night shift.  The shifts are long, but the members of the squad do not physically have to be in the Glen Rock Volunteer Ambulance Corps building when on call.
"You have to be in Glen Rock, or some people go to Ridgewood and are able to make it back in time. Basically you have to be able to make it to the station within 7 minutes," says Andreou.  
EMTs can be out eating dinner or sleeping in their beds, but when their pager goes off they have to immediately report to the ambulance building. They have described their pagers as the loudest noise a person will ever hear, and one of the worst noises to wake up to at 5 am. Bober says he can be at rehearsal while on call, but if he gets paged making it to the building on time is no problem. The volunteers have blue sirens that attach to the hood of their car, which alerts people to get out of the way, making it easier to make the 7 minute time requirement. Despite the long shifts, the volunteers say as long as you schedule your time it's not problem. They only have one or two shifts a week, and usually have free time during those shifts. They enjoy being on call, they don't think of it as just an added pressure. They will respond to calls even if it's not their shift. When they get an alert for an open call, it means they could use an extra person for the emergency. People on call must report to the EMS station, but anyone available can respond.
"The workload now, I think is however busy that you want it to be. If you want, obviously some people will just respond to a call if they happen to be home, just because they're free. So you can be as busy as you want to be once you start volunteering," says Andreou.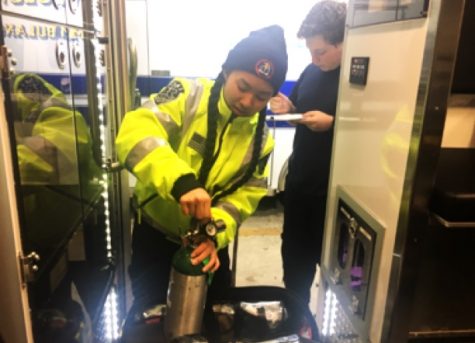 On the Job
Before every call the EMTs do rig checks. They are responsible for going around to check that they have all the needed resources in stock and that nothing has expired. They go around with a checklist, and carefully go through both ambulances.
If they don't replace expired equipment, and use it on a patient, that could be grounds for the lawsuit, even though the equipment might work perfectly fine. If they do not restock supplies they could end up in a dire situation, and not have what they need to properly perform treatment.  
The rig check takes up only a fraction of their shift. They are on call for the next few hours. If they do get a call there pagers go off, and they jump into action. They are no longer teenagers, they are EMTs who are representatives of the Glen Rock ambulance corp. They are responsible for themselves and for the patient they are going to treat. Their training takes over and everything is conducted with professionalism and respect.
One of Lieutenant Montgomery's first encounters with the Glen Rock EMT youths was when they came to her house to treat her mother in law. "I was so impressed at the professionalism of everyone in there including the youth member and how they handled themselves.  I thought it was so impressive, the attention and care to a person they never met, and that to me was so amazing," Montgomery said.
The EMTs have to prepare for everything, every scene is unpredictable. The only knowledge EMTs have before arriving is what dispatch tells them, which can be unreliable. "Normally, the person calling is a family member and sometimes they may be underestimating the emergency or overestimating the emergency," Bober says. "They might tell you 'Oh, this guy's actually not breathing,' and you were told the call was for a toothache. That's an extreme example but, the situation can change pretty fast." When the EMTs get to a scene they are ready to hear what the cops say is going on.
"You get what somebody thinks is wrong with a person, but it could be completely different. Maybe somebody fell off a ladder but they fell off the ladder because they were having chest pains and passed out and it could be a heart attack," says Cornell.
The unpredictability of a scene is why the teen volunteers are no longer kids when they arrive at a scene. They can't be easily distracted or be concerned with anything but what task they are focused one in that moment. Sometimes the patient can be someone they know personally. They can't like this affect how they work. No matter what the teens always have to work with professionalism and follow protocol.
Sometimes a scene is dangerous. A typical teen would not approach a crashed car.  But when asked if ever in danger all of the volunteers said no. The police are always one a scene before them and they are always accompanied by their adult colleagues.
The EMTs are thankful to work with the Glen Rock police department.  "They asses if the scene is safe, if it's not they radio us with updates.  If it's potentially dangerous, but no EMT is in danger when they Glen Rock police are around," says Bober.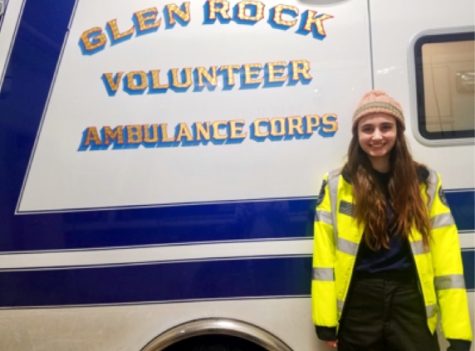 Why They Became EMTs
Being an EMT is a big commitment and is a intense decision. It means months of homework and spending hours of their time in the blank walled classrooms of the Paramus EMS center. Not everyone can handle juggling training and school, and still have time for themselves.
"You need a good work ethic, otherwise you are going to fail out of the class. You can fail out of the class, if you score below 70 percent twice," says Bober.
So why do these kids take decide to put such an extra amount of responsibility one themselves? For them it's not about sacrificing time, but instead they are gaining experience and doing something important for others.
Yuan was a regular volunteer at Valley Hospital when she realized she wanted to be an EMT. She wanted to be able to interact more with the patients and be able to do more for them.  She could do a lot for patients and their families, she was not clinically trained. She couldn't provide any medical care.
"I really wanted to be able to do more, which is part of the reason why I wanted to become and EMT, because you are more directly involved with the different aspects of patient care, and not only the supporting function," says Yuan.
Bober was inspired from real interaction with EMTs. Due to a some medical history in his family the ambulance had come to his house one more than once. "Each time it was really cool to see them and they just marched right in there, doing their job and I thought that's what I want to do, so as soon as I could I joined," says Bober.
He also talked about how it's not just for future medical students. Being an EMT teaches life-saving skills that anyone could use at some point in their lives. "It's good to know basic first aid and basic life support skills, in case," says Bober.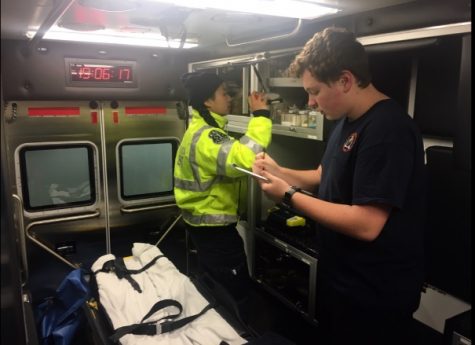 The volunteers all believe that even if you don't have to be interested in a medical career to become an EMT. It is a great way to give back to your community and to get to know your community better.
Lieutenant Montgomery like working with the aspiring crew.  "Most of the younger crews are far more enthusiastic. They are willing to try out and learn. I guess the best part about it is how much, the growth. The enthusiasm that they have, the willing to help. And to realize that people, we find teenagers as so self involved, but to find that they are kinder, and they realize that it's not only a 'me' kind of identity, but to find out that they actually have a realization that there is more to themselves," Montgomery says. She has seen many of Glen Rocks EMTs go one to medical school, and resume their EMT position during the summer.
The Program's Impact
Being an EMT is not all excitement. There are times where they to wait around and nothing happens. The teens also see things that are very intense for kids their age. The have to handle blood and overdoses. The have to remain calm and help patients with psychiatric problems or patients who are not breathing. Sometimes a patient can't be saved.   
"We bring them into one of the emergency hospital rooms and just put them on the stretcher, then the rest is the doctor's job. A lot of the time I don't know what happens to them, which is kind of sad. I would like to know for a few of the people who I helped, if they make it or, like I know my CPR call unfortunately didn't," says Cornell.
Teens working such a serious job may seem unconventional, they have to deal with these very intense situations, and develop an adult's work ethic. Yet the youth program is incredibly important and beneficial. It allows the teens to get a lot of experience at a young age. It is what changes the students from teenagers to adults.
"It's invaluable. First, you grow up real fast. You can't be goofing off and giggling when someone is in severe pain or discomfort. It teaches you to be responsible for yourself, be accountable for yourself. It teaches responsibility," says Bober.
Along with gaining maturity, they are given a great advantage towards their future careers.  Yuan is going to begin a 7 year medical program. And Cornell will be attending nursing to become a flight nurse. Both of them start school in August. Bober's experience in the emergency room has made him want to become an emergency room doctor in the future. He like the rush and excitement of the emergency, something he wouldn't have experienced if not for the EMT program. Andreou has gained an advantage over her future medical school classmates.  How to use a stethoscope, how to take blood pressure, or how to bandage an arm are all basic things that they will have to learn in medical school. Andreou has already done it all in real life.
"I want to be a doctor and pursue a career in medicine. So I think it's a great way to kind of see the front lines of medicine, before the patients, because as an EMT you see the patients before they're you know cleaned up nicely and brought in," says Yuan. "I feel like a lot of time there can be a disconnect, between patients and a physician when they see the patient because they don't really understand the situation."
This program prepares these teens for the real world and is an invaluable learning opportunity for those who want to pursue a job in a medical field. Books and lectures can only teach so much. Nothing can replace actual experience. These EMTs are getting the experience of treating a range of real situations; from treating patients who have fainted, to the more extreme emergencies such as having to resuscitate someone. Taking vitals have become muscle memory and the medical terminology a second language. What else could have given the opportunity they have worked in emergencies rooms and worked alongside doctors and nurses?  All before ever attending medical school. They also have the chance to work closely with policemen, firemen, and paramedics.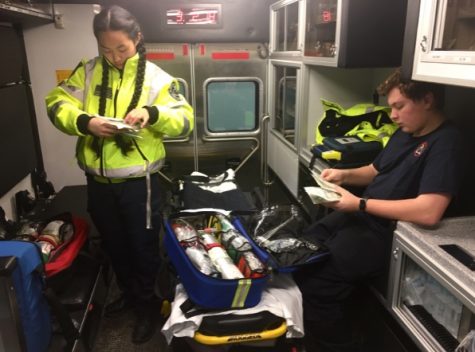 If not for the medical experience, the program is important because it teaches great responsibility to the volunteers. They are providing a important service to their community.
Lieutenant Montgomery says one of the things she like the most about working alongside the young volunteers is seeing how they mature. "The fact that they kids are realizing that it's a service for a town that we live in, its people that we see one a daily basis, they start to learn that community service is really important, as a whole," Montgomery said.
While being  completely responsible for themselves, the teens are giving up there time for others, "It's not just a fun hobby to put one the resume for college. You know?" says Andreou Its actual people's lives, and you being there makes a big difference. So, that definitely had an impact on me."
These teens are the future of the medical community. Because of the youth EMT program they are getting the training they need to become great. With each call their skills improve and their abilities expand. But while their experience matures, they are still able to continue being ordinary teenagers. Teenagers who do extraordinary things for their community.