Psychology teacher switches up his serve
More than 200 tournaments. That's how many psychology and history teacher Alan Feldman has competed in over the course of his table tennis career.  
At the age of 12, Mr. Feldman decided to join a table tennis club in Fair Lawn, NJ. Due to injuries sustained while playing basketball, he was drawn to the safer sport. While in the Fair Lawn club, Feldman learned more about the sport than the average "basement player" knew.
Eventually, Feldman moved on from Fair Lawn and into the "New Jersey Table Tennis Club" located in Westfield, NJ. "NJTTC has some of the best players in the world." Feldman said. "There is a gentleman name David (Zhuang) there now. I'd say in the last 13-14 years, he's been U.S. Champion around 8 times."
Feldman said that despite the competitive nature, he was able to make some friends and rivalries while playing table tennis.
"What's unusual about this sport is that there aren't that many players that play, maybe around 3,000. So you get to know everybody," Feldman said. "If I went to a tournament in New Jersey, and there's 100 people there. I'd probably know 95 of them. Just because I've probably either played them or watched them play."
Despite being around some of the best players in the country, Feldman seems to be able to hold his own. Winning two NJ Hard Rubber Men's Singles Titles, and he was ranked as the fifth best player in New Jersey for a time.
"New Jersey is a very strong state in ping pong," Feldman said. New York California, Illinois and Florida are the states with the best players, according to Feldman.
Feldman had faced off against many of the best players in the country, and once against the eighteenth best in the world.  
While he may make it look easy, jumping from playing your friends in your basement to an actual tournament is a huge step.
"Most people can't keep up with a good player. The average player probably won't even get the serve back, because there's just too much spin on the ball. They have to learn how to give it back," Feldman said.
Spin is an essential part of the sport, and if a player doesn't know how to counter certain types of spins, they're at a huge disadvantage. There are many spins that one can use in a match, and with each spin one can make a slight move to fake your opponent out.
"You definitely learn how to concentrate and focus while playing because even the slightest misjudgement can make you miss," Feldman said.
Part of table tennis is being able to read one's opponent and their tendencies. Feldman credited his psychology background to him being better at reading his opponent than some players around his level.
Not only did he play in clubs, but Mr. Feldman ran the table tennis club in Glen Rock High School a few years back. Recently he tried to start it up again, but he ran into a few problems.
He plans on writing to the Glen Rock Recreation Department and asking them if they could leave some ping pong tables here for students to use. He said that if this works out, he will also write to Ridgewood's table tennis club to see if we could play them.
If you would be interested in playing, please Feldman would like to hear from you.
Leave a Comment
About the Contributor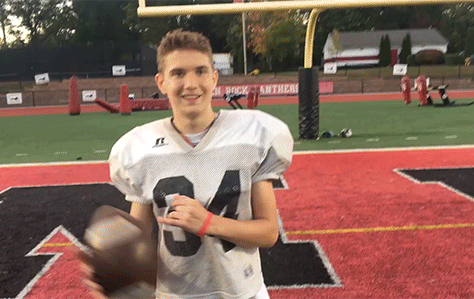 Killian McBride, Staff Writer
Killian McBride is a 16 year old sophomore who is in his second year of playing football for the high school. He enjoys running and has completed  a half...