Sophomore boys get Rec'ed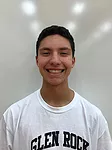 Brendan Ernst was barely a freshman when he created what is arguably the most talked about recreational sports league in the halls of the high school.
Ernst, who had played recreation basketball in previous years, as well participated in some AAU leagues, was intrigued by the idea of a high school rec league.
Previously, rec basketball had only been available to middle schoolers and younger age groups, but many of the freshmen, who enjoyed playing pickup basketball, wanted to join a rec league.
Ernst contacted the coordinator of rec sports in Glen Rock and proposed the idea of a ninth grade rec league. Soon thereafter, the time slots for the gym and referees were arranged, and just like that, the league was created.
The first year of the league was a little rough, Ernst admitted, saying competition was, "very minimal," and that attendance was often spotty. With only four teams and six to seven players per team, it wasn't uncommon for players to play for other teams in order to meet the five player requirement. To some extent, this compromised the level of competition and quality of play, as often players were fatigued.
Ernst took initiative and sought to improve the quality of the league in its second year. He made the decision to open up the league to the incoming freshmen, making the league a ninth and tenth grade mix. "That just about doubled the players we had," he said, making six teams with around nine or ten players on each team. The level of competition has also seen a significant increase.
Perhaps the most unique quality of the league is that it is almost solely run by the commissioner, Brendan Ernst, and a few other sophomore students: namely Jeremy Lavine, who works the scoreboard and stat-book. Some teams have coaches, such as Team White's Devon Kelly, who is a sophomore at Bergen Catholic High School.
Being the commissioner, as well as any position of power, one must be ready to face criticism. Ernst has heard numerous complaints, ranging from personnel issues to trivial matters such as jersey color. Team Black players Alex Bruno and Andrew Birenbaum noted that their schedule has them playing the best competition three times, but they believe Ernst is doing a fine job.
Other aspects of the league include an Instagram account and a website where highlights, stats, and any info pertaining to the league can be seen. A web series called 'Sunday Night Rec' is produced weekly, which includes the top 10 plays and interviews. These are highly popular among the players in the league.
The players in the league are closely knit, and this is evident by the league's motto "Rec is family." Ernst says that even when you're not playing, one has the ability to be involved in the fan section and can enjoy the other games. It is common to have a decent crowd of both parents and players.
If you are not playing a high school sport or have prior plans during the winter season, Ernst and his leaguemates urge you to join the rec league. Players of all skill levels are welcome. He explains that the league's goal is to provide a fun and safe environment for high schoolers to get some exercise and compete while playing basketball.