Boys Ice Hockey ices Mahwah in a 4-2 win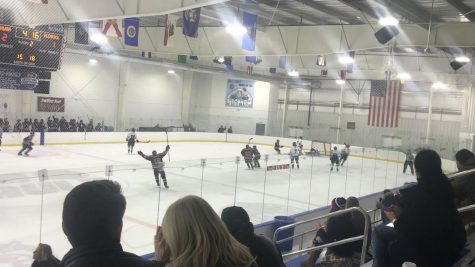 Goalie Ryan McAuley had a busy night, making 25 saves on 27 shots. Glen Rock played an efficient but brutal defense, meaning they had their fair share of penalties. This gave Mahwah an ample amount of power plays. With the score tied and the second period coming to a close, another breakaway occurred, and a powerful shot was sent McAuley's way. A collective sigh of disappointment was heard from the predominantly pro-Mahwah crowd as the shot was caught in one swift move by the goalie.
With a Mahwah player making a break away, Anthony Maurice attempted to catch up with him. With Maurice nearly stealing the puck away, Patrick Smith blindsided him with a hard hit. Smith made sure that the Mahwah player was alright and Maurice was given a two minute penalty for booking.
Glen Rock took an early lead with both team down a player due to penalties. With eight seconds until Mahwah got their player back John LaMacchia passed to Matt Maselli who skated past the goal and shot right next to the goalie who dived in the opposite direction
David Hymovitch once again fumbled with it and dropped right in front of Keaton Carlisle who got the puck airborne and over the head of the goalie and the rest of the Mahwah team who were desperately trying to knock it down. This goal put Glen Rock into the lead and ultimately won the game.   
With time running short Mahwah decided to pull their goalie and have another player on offence into attempt to try to tie the game. The puck was knocked loose and Eddie Corvelli stole it and shot at the empty net scoring and cementing the Glen Rock win.