Life-saving junior lends a hand
While most juniors complain of the stress that that particular year comes with, Glen Rock junior Andrew Sarna has some extra pressures. In addition to typical junior year stress, he also participates in three sports for the Panthers: football, track, and lacrosse, and volunteers as an EMT with the Glen Rock Ambulance Corps.
Sarna's shift doesn't start until 7. He notes that depending on what sport he is currently playing, he will normally be home around 6 PM, though sometimes, especially with football, practice might not finish until around 6:15.
Sarna's friends, such as Seve Bilbao are impressed by his work ethic. "I don't think I'd do that," Bilbao said, stating that it's a lot of work. And while Sarna stated that he normally only has to work one shift a week now that he is a certified EMT, the process to get there was much harder: He had to take 240 hours of classes and pass weekly tests with a score of at least a 70 in order to stay in the class, with students only getting one chance to retake a failed test.
What Sarna does is not common, according to head football coach Jim Kurz, who said he has only seen a few players take on the added responsibility of being a volunteer EMT in his years as a coach at Glen Rock.
However, Sarna says that he doesn't have too much trouble as when he is on call, he is usually able to do his homework unless he gets called to a scene, and that he still has enough time to eat and shower after practice. It can be a little tighter during football season when he doesn't get out of practice until 6:15 sometimes, though becoming an EMT did not mean giving up the two sports that Sarna has played since elementary school in football and lacrosse, and he picked up an extra one in winter track.
"I just like helping other people." That's Andrew Sarna's explanation for why he packs his schedule, coming home after hours of school and practice to go to work as a volunteer Emergency Medical Technician (EMT) for the Glen Rock Volunteer Ambulance Corps.
There can be some tense situations, however. "I'd say my, like 7th call was a CPR call," Sarna had to perform CPR on an older patient, and after four minutes, paramedics arrived and pronounced the woman dead.
"If a patient dies on you it's definitely a big hit," said Sarna. He added that the most important thing in a situation like that is staying calm, and it isn't quite as bad when you don't know the patient.
However, situations like this can help him stay calm in other life situations, and Kurz said that he believes that Sarna has learned how to be a better leader and take charge in more situations, and that he helps the team in "too many ways to list."
"It's pretty simple," Sarna said of his job description. "On call, we have to carry around a pager with us, so let's just say Person A calls 911 saying they broke their leg or something, and then dispatch would contact us, they'll sound the page, so you just go out, help the person, bring them to the hospital, and that's basically it."
About the Writer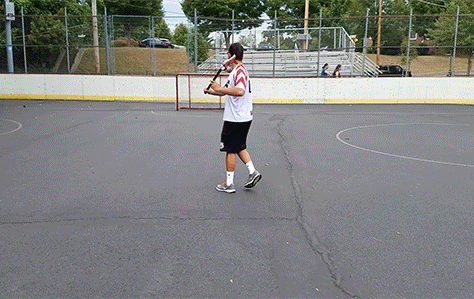 Ian Stephenson, Sports Editor
Ian is a senior in his second year on The Glen Echo staff. A frustrated fan of Liverpool FC and the New York Islanders, when he's not on Twitter, playing...