Councilwoman Kreibich and her inspiring win
She is a member of the Glen Rock Environmental Commission, participates in various activities around town, works actively with the League of Women Voters and is the first woman of Indian Origin to be elected to council. Dr. Arati Sadalge Kreibich, mother of two, promises to give all Glen Rock residents a seat at the table, along with her running mate Amy Martin.
"I've always been interested in politics, and I've always been interested in trying to make sure that we as citizens, have a voice," says Kreibich who was inspired to make a difference in the "close knit" community of Glen Rock.
She was shocked by the rise in biased crimes across the U.S, after the 2016 election. This led her to believe that leaders were needed at all different types of government to build a more inclusive society. She made a decision to be that leader and get involved.
Kreibich is a naturalized citizen. She was born in India and grew up in New York City. She attended high school in the city and attended Boston University and UPenn, respectively. She has a degree in Biology and Psychology, as well as a PhD in Neuroscience. She currently works as a special scientific advisor to a non-profit organization.
In April, Kreibich and Martin went around Glen Rock knocking on doors and getting to know their neighbors. Kreibich's main focus was to understand issues that citizens had. She wanted to know what they exactly wanted from the council. She was very happy to hear that the environment was the main concern for most residents.
"Meeting people was one of the best parts of the campaign," says Kreibich who has been doing community service actively around town with her family. She did several projects with women in community service, worked with residents for the community cleanup and also participated with the public library to talk about the Indian festival of colors, Holi.
She also hopes to talk to teens about their opinions and learn more about their perspectives. She believes that it is very important for the youth of Glen Rock to have a voice and be represented by the council.
Kreibich has 2 sons, Neil and Jay aged 9 and 12. Neil said that his mom inspires him a lot, and he admires the work she does. He also mentions that he helped her during her often, while she campaigned.
"We helped her by knocking door to door and we've also supported her mentally," says Neil when asked about supporting his mother.
"I felt really happy for her. It was a long journey leading up to her win and I thought that it was great. She inspired me and made me feel like I could do more. She's very focused on Glen Rock and making it the best it can be," says Neil.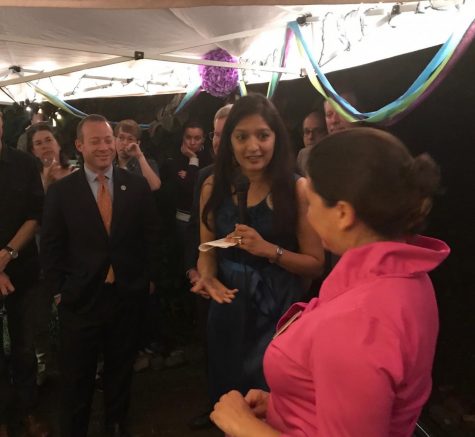 Kreibich says that her family has always been supportive of her decision to run.
"They were very supportive, they've always been supportive. I'm sure they had questions about what the process was. It was a new process, and they were worried about possibly being teased and how they would be perceived, especially Neil," says Kreibich.
During election night, Kreibich had more than 60 people at her house, including friends, volunteers and supporters. She said that winning was an exhilarating feeling, but it took her some time to get used to the fact that she'd won.
Kreibich also said that she's willing to listen to ideas that citizens have and their opinions. She hopes that she can compromise with citizens.
"We're all human. We are going to make mistakes. For me it was saying that 'this is who I am, this is what I believe in and if you believe in the same things, then vote for me.' If people don't agree, I welcome hearing why not and their perspective. I think that we can always reach a compromise," says Kreibich.
She believes that residents should be engaged in the community and take part in town activities. She wants to represent all citizens, including kids, teens and adults. She hopes that citizens can engage with each other and propose ideas that will make Glen Rock a burgeoning town.
"I'm really excited to start in January. I'm excited to figure out how to help solve problems and if people have ideas on how to make things better, they can always come to me and talk," says Kreibich.