Ready for takeoff: Stories from a retired pilot
listen
"I was coming into a landing one day, I can remember the actual identification of the plane. 2970 Victor 2970V. And it was a student pilot and he was an Iranian kid-a young guy-and he was not in front of me, but in front of the plane in front of me. And he's coming in for landing, I'm two miles back. All of a sudden I see a plane clip its tail off and he nosedives into the ground and crashes– and he was dead," Schiano said.
This is one of the many stories that former pilot, Mark Schiano remembers from his career.
"I started liking model airplanes when I was growing up, the gas little airplanes. I always liked airplanes and my father was a pilot," Schiano said."He took me flying when I was kid, so the interest came from that."
Schiano started loving planes when he was in kindergarten, as his father was a pilot and policeman. Though his interest was sparked, he never considered piloting as a career.
Things changed around eleventh grade when Schiano made a friend who shared the same interest as he had. They both loved planes, but his friend wanted to go into the Airforce. Schiano's friend introduced this idea to him, leading him to look into the Airforce as well. He decided to take a test to see if he could get in.
He passed his test and was going to be sworn in a few days later. However, the weekend before he went, his uncle talked him out of going to the military.
"I told him if he wanted to be a pilot, do it privately," said Peter Schiano, Mark's uncle.
Schiano took his uncle's advice and looked for flight courses instead. He ended up at the Cessna Pilot Program out of Ramapo Airport.
At the Cessna Pilot Program, Schiano learned the basics. The curriculum was split into two parts, flight and ground training. His training consisted of reading, studying, and taking tests. He'd also watch instructional movies and films. He realized the program wasn't completely fulfilling his needs, so he took private instruction in addition to the program.
Private instruction is where he thrived. His instructor, Leroy Heidrick, taught him everything he needed to know.
After a brief recap of ground instruction, Schiano started flight training. In flight training, he learned all the need-to-know maneuvers, landing and takeoff, and what to do in case of an emergency.
One specific lesson stood out to him, as it was emphasized during training.
"You know when you're a kid and you put your hand out of the window, and if you put your hand flat is goes through the air, but if you turn it it blows backward?" he said. "If you're pulling up on the wheel and you don't have enough air speed, the wing does the same thing your hand does, where all of a sudden it loses all lift and it's called a stall. The plane wants to spin to the ground. They give you a lot of training in that."
Once his program at Ramapo airport was completed, he gained his private license. However, he didn't stop there. He went on to Spartan College of Aeronautics and Technology, in Tulsa, Okla.
At Spartan, he received his commercial and instructor's  license in a year, after skipping academics and only doing flying courses. "It's like going to school to be a doctor, and skipping all the courses to go right into operating. That's what I basically did," he said.
With his commercial license, he could work for hire.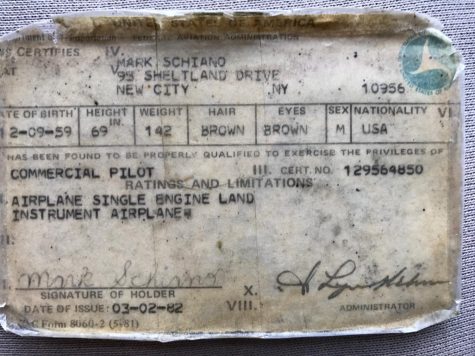 He took a few jobs, taking a news reporter up to do the traffic and charging for joyrides. During his job search, he was in the running to be a flight attendant, which he later declined. He was also going to take a job in Texas flying over the pipeline, but decided against it as it was too risky. The job required him to fly too low to the ground, and one wrong move would've been fatal.
"Where this all came to an end for me was Sandy," Schiano said.
Sandra Schiano, Mark's wife, started dating him when she was 18. Mark was 19 at the time.
"On our second date, we went to the Ramapo Airport for our flight. I remember Mark checking the airplane with a checklist and looking carefully at a map before we got into the plane. Taking off in that small plane with just the two of us was amazing. We flew down the Hudson River, over the George Washington Bridge, and over the Statue of Liberty with a wonderful view and  the plane to ourselves.It was a great date!" Sandra said.
Due to how young she was, she thought him being a pilot was cool. However, as the relationship progressed, and Mark's mother expressed her worries about her son to Sandra, her opinion changed.
"It seemed that almost weekly there were reports of small plane crashes and deaths from planes flying out of the same airport and others nearby," Sandra said. "Finally, and reluctantly, Mark agreed to stop flying."
Planes often crashed back then because of the old and inaccurate equipment. Though planes have evolved, Schiano doesn't see himself flying again.
He's thought about it, but it's expensive now. Back when he was flying, it was $35 an hour  to rent a plane. Now (depending on the model of plane) prices range from $99.95 to $144.95 an hour, according to SolbergAirport.com.
Another reason why he doesn't see himself revisiting flying is because he's scared.
"Believe it or not, I'm actually afraid to fly. For me to fly now, I wouldn't be afraid to fly myself. Its flying in the 'passenger seat," Schiano said. "When I'm in that airplane, it's another guy flying, and unless I'm in control, I'm not comfortable."