Legally the lead
Aspiring for a thrill in theater at only 7 years old, the young and eager Caitlin Rundle captivated the audience in her first theatrical performance at camp Y-oak-a. The audience admired her adorable, comical act as the lyrics of "Broadway Baby" from the show Follies, gently emerged from her mouth. Little did they know that during her senior year of high school, Caitlin would be cast in Legally Blonde as one of her dream roles.
The school's musical performance of Legally Blonde, is set to take place this February.  The plot follows the journey of the lively protagonist Elle Woods as she tries to win back an ex-boyfriend, yet along the way learns to put faith in herself. When it was announced that Legally Blonde was the show, Caitlin seemed like the perfect fit for Elle.
"It's a fun part, but it's a part where I don't really have to act that much," Caitlin said. "I kind of get to be myself because I'm just naturally an energetic person."
Director Carl Helder described when casting Elle, the directors were looking for someone with "a certain voice and type range, an understanding of the character and a great read for the part." Caitlin was able to leave an impression by singing the challenging act one finale song "So Much Better."
"Caitlin brings a lot of energy to her performances, she works hard and puts effort into all aspects of her performance," Helder said. "Once we are finished with rehearsals the audience will see Elle Woods come to life."
"
Caitlin brings a lot of energy to her performances, she works hard and puts effort into all aspects of her performance."
— Carl Helder
Influenced by her family's theatrical background, Caitlin got involved in theater at a young age. Her father Rob was involved in theater for years, and her mother Laura studied ballet in college. In addition, Caitlin's older sister Joanna was a talented actress and gifted singer whom inspired Caitlin. According to Rob Rundle, the performing arts is something that has always been a part of the family's life.  
When Rob would drive Caitlin to daycare in the morning, he would play his favorite type of Broadway music. Eventually the two compiled a list of Caitlin's favorite Broadway songs. Instead of listening to popular radio stations like most children growing up would, Caitlin found herself listening to composers such as Stephen Sondheim and Jason Robert Brown.
One day, Caitlin's daycare teacher asked Rob if his family and he were involved in theater.
"We enjoy theater," he said. "But no, not as a job."
The daycare teacher found this interesting, because every time the class would finish singing a song, Caitlin would thrust her arms into the air and say "ta-da" as if she had just performed in front of an audience.
It was as if she were destined to perform.
In sixth grade, Caitlin kickstarted the list of shows she would perform in the future with the middle school's production of Peter Pan.
Not only was Peter Pan the first show Caitlin would seriously perform in, but it was also the first show in which she acted alongside castmates that she would perform with in the future, creating strong friendships with them.
"It's just cool to see how much we've both developed not only as friends but as performers," close friend and Legally Blonde castmate Tina Rivara said. "We've all been in shows that get a little tense or get a little difficult, but like this one I think for her is going to be fun and she's happy to be there."
Although Caitlin has acted in numerous productions, she primarily considers herself a singer.
"When I sing, I can express any of the emotions I'm feeling in four minutes and it's the greatest thing ever," Caitlin said.
When performing became more serious for Caitlin, she took up vocal lessons to improve her skills. This year Caitlin is head of the school's concert choir. She currently belongs to the soprano section of the concert, women's and chamber choirs at the high school, and is the director of the St. Catharine's Catholic Youth Organization choir.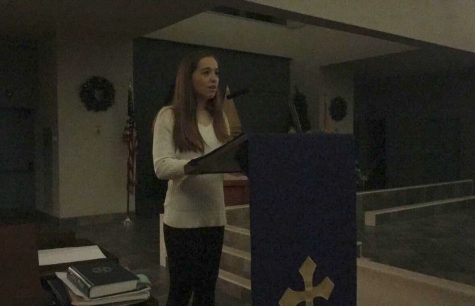 "It starts with the voice, she's got such a tremendous instrument," Rob said. "She has maturity beyond her years with how she uses her voice."
Caitlin manages to balance her schedule with a responsible, driven work ethic. She described being raised as someone who works hard to earn everything she gets, in all aspects of her life.
"She's got so much heart and so much spirit that she just works to get to where she needs to be," Rob said. "We're just very proud of how she's lived her life and what she's been able to do, and we're really looking forward to seeing what's next."
"
She's got so much heart and so much spirit that she just works to get to where she needs to be."
— Rob Rundle
After Caitlin graduates from high school, she will be studying communications with a focus in broadcast journalism at Elon University in North Carolina. She plans to continue her theatrical adventure by joining an a capella or theater group her freshman year, and hopes to pick up a musical major her sophomore year.
As Rivara describes, Caitlin is a positive, approachable and very responsible person, who brings a new energy to every show. Caitlin was anxious that she wouldn't be cast as Elle, but Rivara predicted that she would obtain the leading role.
"She's one of the most talented people I know," Rivara said. "As soon as they announced that Legally Blonde was the show, I knew she would be Elle, so it was really no surprise to me and of course I was super proud of her."
While Caitlin will be playing Elle, Rivara will portray the character Vivian, Elle's adversary. Although the two will interact very different than how they do normally, Rivara describes they have an "immediate trust" on stage together.
Along with acting in the musical, Caitlin will also be student directing with a friend, senior Izzy Crawford. Caitlin describes that this position will demand more responsibility and will be a learning process, but she is pleased to help the production in any way she can.
The show is set to take place Feb. 8 through 10 and will consist of a cast representing all four grade levels.
"This is a high energy show with fun, infectious music that everyone can relate to," Helder said. "This is an amazing cast of students [and] without a doubt it's a show you won't want to miss."
By checking the role of Elle Woods off her list, Caitlin can live her dream while expressing herself.
"I don't think anything you can do is anywhere near close to the thrill you get when you perform," Caitlin said. "It becomes very emotional, it's a lot of fun and it's something that I've never experienced anywhere else."