History teacher re-visits history
In 1989, a young German woman drove to work on the Kurfurstendamm, perplexed by the "trabbis" on the street; in 2000, an American teacher decided to climb a famous piece of history.
 Kathleen Walter, a United States history teacher, traveled to Germany with her colleague, art teacher Cathy Cosgrove. They visited the Berlin Wall with their students from West Milford High School.
Walter, no stranger to traveling, has been to every state except for Oklahoma, and she traveled across Europe as well. Besides Germany, she has journeyed to Switzerland, Ireland, Austria, and several other countries.
During ten-years of teaching at West Milford High School, Walter conducted art history field trips with Cosgrove. Cosgrove explained the artwork while Walter explained the history.
The Berlin Wall fell in 1989, destroying the divide between Berlin. Growing up during the Cold War and the threat of nuclear warfare was difficult, so seeing this wall was very moving and emotional. Even though it was built before Walter was born, it symbolized the divide between freedom and Communism. As a college student at the University of Massachusetts, she was glued to the television, absorbing every moment of the destruction of the Berlin Wall.
"It just seemed like humanity was moving forward, and freedom was expanding, and the idea of freedom was expanding to more and more people," said Walter.
As an American, Walter found it really "cool" to see the Wall in person. East and West Berlin were complete opposites of each other. West Berlin was a beautiful area with wonderful architecture and  tchotchkes, while East Berlin was totally utilitarian.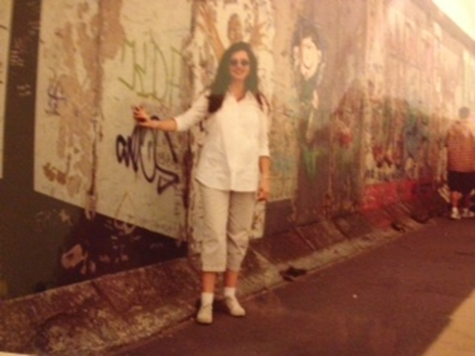 Last year, Walter taught Stella Mendonca Pereira, and her mother, Cornelia "Conni" Mendonca Pereira (nee Christ), grew up in Germany during the Cold War. She lived in Prenzlauer Berg with her relatives in East Berlin, until she was seven. In 1977, along with her mother, she moved to Schöneberg in West Berlin, living there until 1989. There were stark differences between the split in Berlin. While West Berlin was abundant with products, East Berlin was almost barren.
"In West-Berlin we had free speech and free thinking," said Mendonca Pereira. "In East Berlin was the 'Stasi' who spied at anyone."
Mendonca Pereira explained an organization called the "Pioniere and FDJler." It was a mandatory youth group that attempted to brainwash people. Not only that, but life in East Berlin was intensely structured, as citizens could not own a car until ten years after they purchased it. At home, one person controlled the television station for the entire apartment building. East Berlin lived in fear of the Deutsche Demokratische Republik (DDR). If someone stepped out of line, they were arrested, or their children were taken away for forced adoption.
Walter explained that people tried to climb over the Wall and were shot as they tried to escape East Berlin.
"There actually is no effective count of how many people lost their life because it was all in the archives of the Stasi," said Walter. "They were a scary group of people, and people disappeared in the Soviet Union. People disappeared in East Germany."
When the Berlin Wall fell, Mendonca Pereira was grateful that she could see her family for the first time in ten years. The night everything began, she was on the Kurfürstendamm, went to the movies and later a pub with her friends. She did not turn on the television because she got home late that night. She was surprised, as most Germans were, not expecting the Wall to be torn down.
Mendonca Pereira said she "was just wondering when I was driving to my work on Ku"Damm where all the 'Trabbis' are coming from,"  said Mendonca Pereira. "And my colleague explained it to me."
While in Germany, Walter explained the Cold War to her students, while Cosgrove talked about the transition of modern art into graffiti. Walter felt the beauty of the West Berlin side was that it was a public art space for freedom of expression. People even graffitied on top of existing graffiti.
"This wall truly represented the epitome of freedom of expression," said Walter.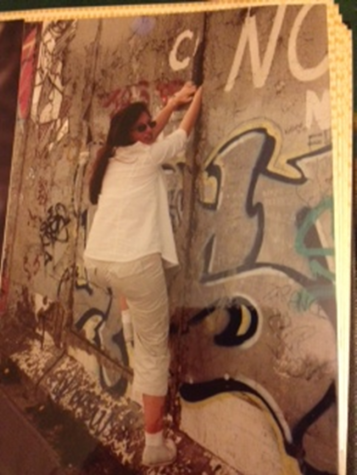 Walter spent a week at the Ronald Reagan Presidential Library in Simi Valley, California. Berlin sent over a piece of the Wall, adorned with a painting of the Statue of Liberty, as several of Reagan policies helped tear it down.
Walter truly believed that "pictures are worth a thousand words." Pictures can be dramatic and ironic, but satirical art is difficult to do.
"It's so hard to create like biting, strong commentary with pictures, so I truly appreciate really good stuff like that, and the wall just constantly had that on there," said Walter.
"Graffiti on the West side is most against the establishment, for anarchy," said Mendonca Pereira. "Graffitis on the East side are against the establishment, for freedom."
The people of Berlin were not the only ones who contributed to their freedom and the destruction of the Wall. Walter felt that America played a great role in tearing it down, especially under the Reagan administration. Reagan declared, "Mr. Khrushchev, open this gate. Mr. Khrushchev, tear down this wall."
Walter felt that when other nations needed freedom, America stepped up to positively spread democracy.
"There are times when America spreads awesome messages and the idea that we will be there to help support people maintaining their freedom," said Walter. "I think that's a beautiful thing."
Walter also mentioned that those in Berlin and America felt unified against the Soviet regime. Starting with President John F. Kennedy, they felt they could come together to spread democracy and freedom. Mendonca Pereira also said that Kennedy's speech was important to her.
"Ich bin ein Berliner," said Kennedy. ""I too am a Berliner."