Adopted overseas
One might define their parents as the people who gave birth to them. However, sophomore Grace Huisking does not hold this same definition.
On February 28, 2002, Grace was born in Chongqing, China and was subsequently placed into an orphanage. Meanwhile, adoptive parents Robin and Skip Huisking were ripe in the middle of a nearly three year waiting period to meet their daughter.
Prepped with children's books on Chinese adoption, an endless pile of baby clothes, and a stack of paperwork that resembled a skyscraper, Robin and Skip dreamed of January 2003, when they and their daughter Laura traveled to China for the most important first impression of their lives.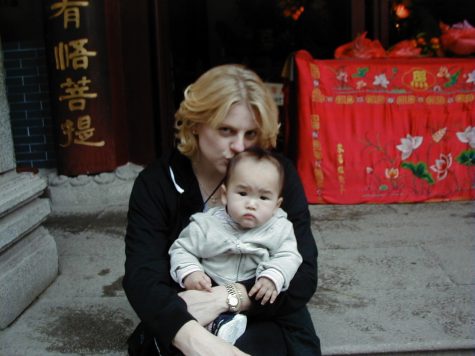 At first, Grace wasn't "Grace." Instead, she was Fujia, meaning "beautiful and fortunate" in Chinese. Her American name is reflective of Robin's grandmother, though Grace's Chinese heritage remains in her middle name.
With Grace newly brought into the Huisking home in the U.S., Robin began assuming yet another task aside from being the mother of an infant: raising Grace to incorporate her Chinese roots.
"Being an Asian child brought up by white people, it was obvious that she was adopted," Robin said. "My philosophy was that I never wanted Grace to feel like her life started when we adopted her, and I never wanted her to feel like being Chinese was lesser than being white. Literally from the second we got home, every night while I was rocking her and giving her a bottle, I'd tell her her story."
Robin ensured that Grace's story matured as she did. Instead of being brought up unknowing of her early life in China, Grace was raised from the start to accept that her adoption happened for a reason.
"I'm not mad at my biological parents for putting me up for adoption," Grace said. "I'm happy that they sent me to an orphanage because it ended up giving me my life in America."
During the summer of 2013, the Huisking's embarked on a milestone family vacation to China, where Grace was able to connect with her early caregivers and re-visit her first living arrangement, in addition to seeing many of the country's tourist attractions.
It wasn't enough for Grace to just visit the adoption center. For her birthdays in third, fourth, and fifth grade, she started asking for and collecting gifts in the form of donations for the orphanage.
"I met the lady who took care of me, who was a teen at the time and now she's all grown up," Grace said. "We played with all the babies and brought them toys, and we donated a lot of money to them, because I'd raised it from my birthday the year before."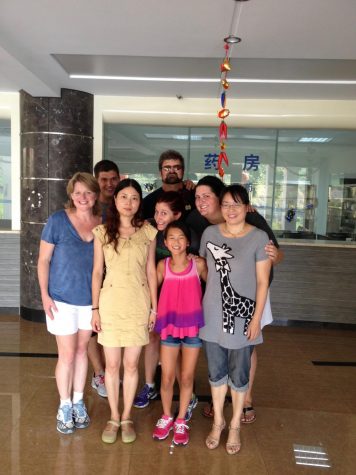 Nowadays, Grace maintains her life as a teenager. Participating in fall and winter cheerleading, winter and spring track, and Girl Scouts, Grace surely keeps herself busy, and that's the way she likes it.
"I'm doing great! I'm busy, and I like to be busy, just living normally," she said. "I do average teenager things."
Grace's life during the school year is hectic, especially with this being her first year as a double roster winter athlete. Despite a packed schedule, Robin and Skip never cease to make sure everyone around Grace is comfortable.
"After this being the second year coaching her, I have become close with her mother and father; we've talked a lot," Grace's cheerleading coach Alyssa Perry said. "They're always making sure that I'm feeling appreciated as a coach. I think that they're good parents to her, and that's what makes it easy to coach her and easy to talk to them."
Aside from their involvement with Grace's coaches and teachers, Robin and Skip have stressed from the beginning Grace's significance to them.
"I've always told Grace that she was my Plan A," Robin said.  "I didn't have a game plan to have a biological child,  I had a game plan to be a mom. Had I had a biological child, I probably wouldn't have Grace, and I couldn't even fathom my life without her."