Varsity hockey wins season-opener
The boys' ice hockey team defeated West Milford 4-2 in their first game of the season on Nov. 26.
Following last year's Public B championship, the win was important to keep their winning reputation intact. Although the team was positive, they kept in mind the loss of many of last years star seniors, including alumni Colin Morrow and Jake Kinney.
Co-captain John LaMacchia said, "We did lose a lot of great players this year, but we are a new team and will play the same, if not harder, than last season. We aren't focusing on the past because we know teams are coming for us after last year's win."
LaMacchia scored the first Glen Rock point of the game seven minutes into the first period. Junior Pat Smith played a pass off to LaMacchia across the rink, putting him one-on-one with West Milford's goalie.
Only a minute later, senior Eddie Corvelli set up Co-captain Matt Maselli for another goal, putting the score at 2-1 at the end of the first period. Maselli was the high scorer of the game and returned later to score his second goal off a power play.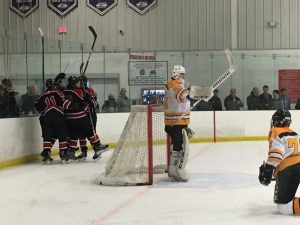 Freshman Anthony Maurice was defending a West Milford forward when an off target shot hit him behind his ear, one of the few areas of the helmet that provides little protection. He was immediately subbed off the ice and checked for a head injuries.
Maurice did not show any signs of a concussion, but did receive several stitches later that night.
"Anthony is a strong kid and should be able to return within the next couple of games, but he probably will be out for this week," LaMacchia said.
In addition to Maurice, there are several freshman predicted to make an impact this season.
David Hymovitch and David Kloeber moved to Glen Rock this summer from Arizona after being recruited by North Jersey Avalanche Bantam Major AAA team.
"We are a strong team with a lot of talent. We have a lot of kids that have the potential to be star players, but if we play together we will have a large group of star players instead of just a few individuals," LaMacchia said.