Students LEAP into positivity club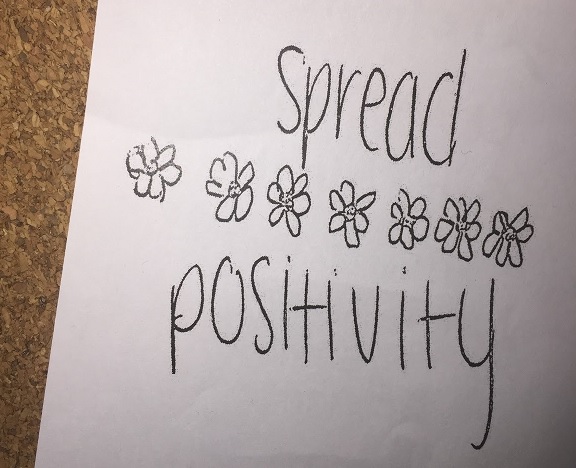 How often do you feel stressed or overwhelmed? School, friends, and other stressors often distract students from their physical and mental health.
The LEAP club is dedicated to changing that. The Leadership Encouraging Alternatives and Positivity club, led by art teacher Jenna Dunay, aims to make the school and community a better place by expressing messages of positivity and self-care.
Meetings are on the second and fourth Tuesday of every month in room C-130. Here, the members compile ideas, plan events, and discuss the benefits of their actions.
"It is a group of students who possess leadership qualities, who are friendly, who are not afraid to be positive examples on this campus," Dunay said.
This is Dunay's second year advising LEAP club. She said it is a kind group of people and they immediately made her feel welcome.
The group also advocates living a healthy lifestyle, which includes the abstinence from drugs and alcohol. Furthermore, the group discusses what can be done to make the school community a more cathartic, constructive place.
Participants are welcome to come to just one meeting, every meeting, plan the events, or simply attend them.
"Seniors, when they are applying to colleges or juniors when they are taking the ACTs, could always use an outlet where they can hang out and just be silly with each other. I would love to see just as many new faces as there are familiar faces," Dunay said.  
Izzy Crawford is a senior and part of LEAP. She is a member of the team that works to make creative and encouraging events for the student body.
"Everyone's so nice and so supportive of each other. Especially if you're having a bad day, it's very relieving to go to an event," Crawford said.
Leap club holds a plethora of various events ranging from meditation or enjoying music, to a lively Christmas party before break.
"The most successful events are the very absurd ones, like monster truck tea party and Flashback Friday. It's the ones that are kind of childish and fun and capture the essence of positivity," Crawford said.
Caitlin O'Brien is a sophomore LEAP member who is hoping to become more involved in the group.
"There's so much stress going on in school and in life, it's good to just take a moment and go to these club meetings just to destress and give a positive attitude for the rest of your day," O'Brien said.
She attended LEAP's first event this year, making Oreo pudding. This gave students the opportunity to spend some time unwinding and getting to casually talk to friends.
LEAP is open to everyone, whether it is your graduation year or you're brand new to the high school, you are welcomed and encouraged to come be a part of LEAP.
"I hope LEAP gets a few new members, and by few I mean a lot, so we can show everybody the fun things you can do without influence of outside sources, and show them this positive and supportive group of people who all care about each other," Crawford said.  
Dunay has similar goals, as do many more of its vital members.
"It's a great way for freshmen to meet people, but it's also a great way for a senior to meet a new friend," Dunay said.