Perfect Prom
Scrolling through webpages for the past three hours, Sydney Carr yawns wearily. It's 1 a.m. and she's been searching for the perfect prom dress for hours. Her finger starts to cramp and her eyes shut then flutter open. The screen hurts her eyes as they strain against the white light that shines in her dark bedroom. She closes the tab, frustrated. She'll look again tomorrow.
Prom. One of the most stressful, but exciting days for high school students: especially girls. The need for perfection drives most girls over the edge until the night of prom, where they can finally showcase their unique beauty.
First comes the struggle of buying a dress — the right size, the right color, and the right style.
It was a rainy day. Sydney and her mother had been to three stores and still could not find the right dress for her first junior prom.
Finally, in the fifth and final store, she found it. Frustrated by her endless search for a sparkly-shift dress, she remembered the boutique in a nearby town that her friend told her about. Though nervous that her lack of luck would continue, she went in anyway.
After looking through every rack, just when she was ready to give up, there it was sitting right in front of Sydney's eyes: the perfect silver and white sparkly dress.
She raced to the dressing room, eager to try it on. One look in the mirror and Sydney was in love. With some minor alterations, it was perfect!
"It was everything I ever imagined. It was the last one in the store, so I knew it was special." Carr said.
Second comes the struggle of finding a date– who is it going to be? Will anyone ask you?
For Sydney, she got lucky and knew she was going with her boyfriend Matt Sapoff. But, that is not the case for all girls. Most have to wait around and see who is going to ask.
The big "promposal" is what girls strive for. When most people think about prom they think about how they will be asked. The bigger the better: one that will be memorable!
Hallie Johnson ('18) had a promposal that knocked her off her feet.
"It was unexpected because my date Michael Quinn kept telling me he wasn't taking me even though all along, he was prepared to ask me." Johnson said.
When Matt was going to ask Sydney was unknown, but the time finally came.
HONK…HONK….HONK..HONK. Sydney heard the nonstop beeping of a car and went outside to see what was going on.
That's when she saw three cars with her friends in each, hanging out the window holding posters containing the letters 'P' 'R' 'O' M'. In the last car was Matt holding the '?'.
Her face turned bright red as she smiled and laughed. Sydney walked down the front steps to meet Matt.
"Sydney Carr will you cruise with me to prom?" the poster read. Flattered she said yes and gave him a kiss.
Neighbors came outside to see the commotion and to their surprise, found it quite cute.
"I was very happy and very surprised," Carr said, "It was everything I dreamed of and more. "
Once she had her date and dress set, she had to get the boutonniere for Matt.
A couple weekends later, Sydney and her mom went to Perry's Florist to pick it out. She decided on a silver boutonnière that would match her dress.
Friday morning, Sydney woke up in a cheerful mood. Lying in her bed ready to start the day she had a big smile on her face knowing it was prom day.
"My favorite part is the moment when every single kid is on the dance floor and you are just with your grade having a good time," Allie Denenberg ('18) said.
First period, second, and third, the day seemed to be never ending. Finally came lunch and Sydney was allowed to leave school.
Blasting music in her car, she drove to Originals salon in Ridgewood for her hair and makeup appointment.
When she realized she forgot to decide on her hair style she thought she was doomed. She wanted to look perfect, but that was going to be ruined.
With some help from her hairstylist she chose a ponytail with a braid.
"I found the hairstyle on Pinterest. " Carr said.
Two long stressful hours later: her hair was finally complete. She looked into the mirror and…
LOVED IT!!
Now onto makeup. The tickle of the blush brush make her giggle.
Sydney looked down at her phone to see the time: 3:15 p.m. She had to be at Matt's house for pictures in less than a hour. Time was ticking down and the stress was piling up.
"The most stressful part was finding the right dress. " Carr said. Her desire to look perfect was overwhelming her before she even made it to prom.
Sydney slipped into her dress, put on her high heel shoes, applied some more lip gloss, and finally, after five long hours, she was ready.
Matt was home waiting for Sydney to arrive. He put on his tux, combed his hair and sprayed cologne, he was ready too.
It took her five hours to prepare and him only five minutes.
Prom is a stressful yet fun night and one that everyone who experiences it never forgets.
"It was one of the most memorable nights of my life in high school, and I am looking forward to senior prom!" Carr said.
About the Writer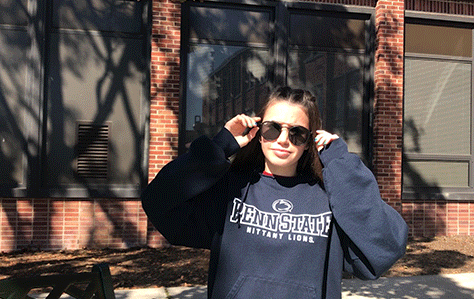 Jordan Carr, Snapchat Manager
Jordan Carr is a sophomore at Glen Rock High School and the Snapchat Manager for The Glen Echo. This is her second year writing for The Glen Echo. She...