Concert choir hits climax with spring concert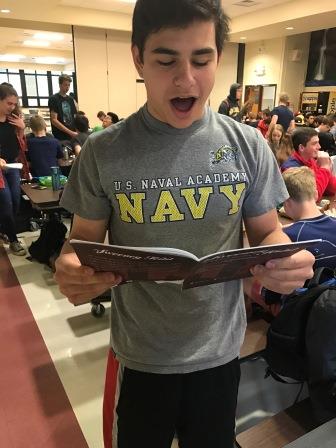 While in school, they are just students of an academic class. However, the concert choir proved to be able to blow away a crowd during Wednesday, May 17, 2016 spring concert.
In the high school auditorium from 7:30 to 9:30 p.m., the concert choir displayed the several months of preparation for the event, orchestrated by choir teachers Ms. Anna Lilikas and Mr. Carl Helder. The choir had already performed this December at the winter concert in Orlando for competition in April and Cabaret Night in October with some department leaders.
Several months of preparation in class allowed for the 150 students in choir to perform Peze Kafé, A Sweeney Todd Medley, Bridge Over Troubled Water and Encore in a manner that Lilikas described as relatable, lively and entertaining.
The extracurricular choirs, the Chamber Choir and Women's Choir, sang a few pieces each as well. They sang Soon Ah Will De Doneh, The Argument by the Chamber Choir, Mr. Sandman, Ubi Caritas, Just The Way You Are and Just a Dream mashup.
"All pieces were done well, and the students were engaged the whole time," Lilikas said when asked about the performance.
Choir has attracted several new members that adds to its size of 150 students. All of these students were trained for these concerts throughout the year with a number of techniques. All were executed well enough to receive engagement by the crowd.
"I think the crowd favorite was The Argument," Lilikas said . "The students sang their hearts out."
Particular members of the choir favored certain songs, specifically some of their own performances, including Ben Katzman ('20).
"I'd have to say that my favorite song was Peze Kafe just because of how alive the song was and the energy it brought," Katzman said.
All of the individual performances were successful as a result of a number of techniques used for practice during class.
"Whether it was taking mini tests on [the songs] or reviewing certain parts, we did it," Andrew Vadeika ('20) said.
Vadeika is one of the several freshman choir members to join the choir this year. He says that he came into the class with several expectations, all of which have been met.
"I was always aware of choir in the high school because of my two brothers doing it every single year," he explained. "Choir as a freshman is fun and enjoyable, as everyone treats you nicely."
With its completed performance, the concert choir is already awaiting next year's class and future performances.
"I do plan on returning to choir next year," Katzman said. "I had a lot of fun doing it, and it was a great experience. I'm really looking forward to it."