In the era of cyberbullying, any type of bullying still hurts
Detective James Calaski was hired by the Glen Rock Police Department in 2000 and was assigned to the Patrol Division. He worked in this position for seven years and was then stationed to the Detective Bureau, where he is still assigned today. Before Calaski was appointed to the Glen Rock Police Department, he worked as a private investigator. He also volunteered for the Glen Rock Auxiliary Police for two years.
He explains that patrol officers are the initial responding units to any 9-1-1 call. If the situation requires further investigation, the detective bureau is called to the job. Calaski gets involved with any situation that cannot be handled at the scene right away.
"We have had a few cases of cyberbullying and harassment over the years.  Thankfully, nothing too serious, but serious enough that we had to intervene and educate those involved.  I would estimate we probably have at least one cyber harassment case a year," Calaski said.
Glen Rock police officers often hear concerns from students, but the officers were not permitted to discuss the specific events of juvenile matters or ongoing issues with a reporter.
If a young person is experiencing either cyber harassment or bullying, Detective Calaski suggests that the victim talk to a trusted adult (parent, teacher, or coach) and let them know what is going on. He believes that victims often feel ashamed or guilty, and they may be in denial.
In the 1990s, a boy named Josh was bullied right from the first day of middle school. Kids spit on him and taunted him in the hallways every day. It did not occur to him to contact his parents or teachers about the situation immediately, so it went on for a long time. When a group of 20 kids threatened that they were going to beat him up the next day, he decided it was time to inform his parents. His dad contacted Josh's main tormentor and threatened to call the police — the bullying stopped.
Twenty years later, Josh Sr's 11 year old son, Josh Jr, came home with a sprained wrist and a concussion. It was an all too familiar sight; Josh's son had been bullied. It was the beginning of his son's sixth grade at a new school, so Josh wasn't quite sure what to do.
Josh's son was commencing basketball and was getting injured on the court by his own teammates. He would come home and find notes on his back saying "loser" and "kick me." Finally, he came home with a broken foot. That is when his mother signed him up for martial arts.
"It is never okay to bully someone in person or online.  They should never be made to feel like they did something wrong or brought this upon themselves.  If the bullying is serious, the victim should save any information, screenshots, past emails or text messages," Calaski said.
This information can be extremely helpful to the police if a criminal investigation is warranted.  If the bullying consists of minor name calling, often parents or teachers can handle the situation themselves.  When in doubt, call the police.
"Cyber bullying can have serious consequences," Calaski said.
Consequences
Ryan Halligan committed suicide at only 13 years old. Halligan was bullied physically and online. He was repeatedly sent homophobic instant messages. He was taunted, threatened, and insulted. To prevent the horrific pain of the loss of a child, his father, John P. Halligan now lectures at schools and discusses the dangers that cyber bullying and harassment may cause. This boy's death has become a conduit for many anti-cyber bullying laws around the country.
Calaski is also assigned to the Bergen County Prosecutor's Office Computer Crimes Task Force. He and other officers handle any juvenile-related crimes on the internet, such as child pornography, exploitation, and cyber bullying. They also provide educational presentations to students and parents on internet safety.
Calaski recommends for students to always be wary of strangers on and off the web. A student's behavior online should be just as private and safe as it is offline. It is a smart idea to remind children to never give out personal information such as usernames, passwords, or social media accounts.
"Don't assume the person you are talking to is a 17 year old boy just because he sent you a photo of a 17 year old boy: he could really be anyone.  And you should never ever meet someone from the internet in person," Calaski said.
Inside Glen Rock
Cyberbullying may occur online, but it's effects are felt in person. No school is immune to its effects.
Before coming to Glen Rock, Dr. Wirt was also a middle school principal, a middle school vice principal, a high school vice principal, and a middle school athletic director. Wirt also taught seventh grade science and reading.
Wirt, along with vice principal Brian Pepe, are available for students when they need help. One policy that helps to stop cyber bullying during school hours is a zero tolerance phone policy. Middle school students are not allowed to use their phones during class, unless their teacher authorizes it.
If a student is cyber bullied outside of school hours, Wirt suggests the following actions.
"Students should report the problem to their parents first. They should in no way engage in any back and forth activities with the bully that may promote more problems. They should block the bully from their phone and from their social media feeds.  If necessary, the family can call the police," Wirt said.
Special Education teacher William Crispino is the anti-bullying specialist in the high school. His job includes investigating cases of harassment, intimidation and bullying among students. Typically, he deals with about ten cases of cyber bullying each year.
All of the cases Crispino has dealt with have dealt with since taking over this position have been student against student. Each year, the high school has assemblies talking about the problems with the idea of bullying and what to do as the victim or bystander. Red Ribbon week is also recognized to raise awareness of violence in schools.
"The first thing I would tell someone who is becoming a victim of cyber bullying is that they should not accept it.  No one has the right to attack someone and bully another student whether in person or online," Crispino said. "Anyone going through something like that also needs to realize the support that is available to them here to be able deal with the problem."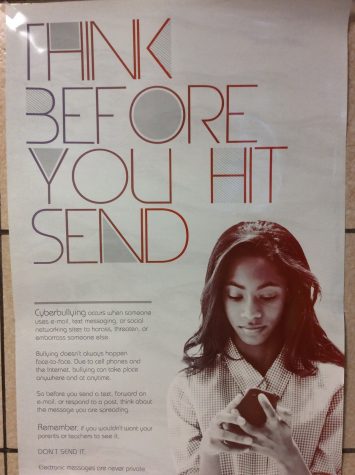 All students are welcome to go to a teacher or any adult in the school for help.
"If a victim were to reach out to a teacher, guidance counselor, coach or administrator, all have been trained on how to handle these situations and the issues can be resolved very quickly.  No one in this school tolerates bullying and all victims need to know that help is here for them at anytime," said Crispino.
While the majority of bullying that occurs in Glen Rock is student-to-student, that is not always the case.
Lainey Lewis, a student at Kinnelon High School has experience with being bullied by a coach. She is a soccer player and participates in a very intense soccer program. Lewis travels around the country to play the sport that she loves, but sometimes is unable to enjoy it due to a constant voice in her head. It is rare to find a coach that ruins the game for a player, but when this happens, the best thing to do is either deal with it and play the game, or find another team.
"I have learned that although my coach puts me down repeatedly, I just need to play my game because I know that I am a good player. I do not travel around the country for nothing, and I certainty do not give anyone the time of day to put me down as a person, or as a player," said Lewis.
Some girls on the team have left because they could not handle it, and that was their personal decision. If something causes a person so much stress, it is not worth it in the long run.
As a parent, it is difficult to recognize if a child is going through something. Children, and even adults, tend to put on a mask in front of other people. Even though things might not be going well at home, or something serious is going on, people prove to be successful at hiding it. Crispino believes that parents can play a pivotal role in preventing bullying by monitoring their children when they use technology. In order to have the ability to handle the situation, parents need to know if their child is becoming a victim or an aggressor.
Anti-Bullying Specialist Advice
Step one: Discuss the situation with the victim to get the details of what is going on
Step two: Interview any possible witnesses to the activity or incident 
Step three: The alleged aggressor will be brought down to discuss the issues
Step four: Once all the information is gathered with written statements, it is determined whether the situation is considered bullying, a violation of student code of conduct, or inconclusive (no wrongdoing)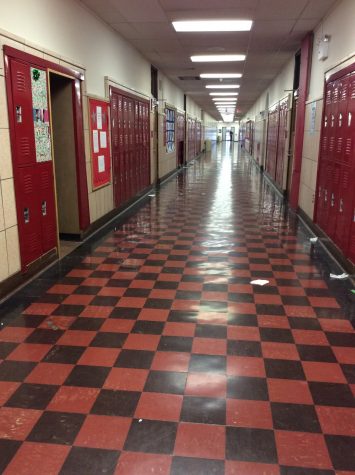 While class is in session the middle school hallway appears to be a ghost town, completely empty. Though when class is out of session, the halls fill with little kids joining cliques or being left out.
In one case, a group of four teens from Chicago attacked a disabled man and violently tortured him as they streamed it live on Facebook.  It is sickening that kids would intentionally ridicule a man that is unable to do anything about it, and is living with a disability every day. It is hard enough for a disabled person to be constantly stared at, laughed at, or overall treated differently. Anyone who believes that it is okay to torture anyone at all, needs more help than the actual victim.
"The best way to stop this epidemic of bullying is building a community who embrace every individual for who they are," said Crispino.
Statistics are everything
Each year, over 3.2 million kids are victims of bullying, and about 160,000 teens skip school every day because of problems they refuse to face with bullies. Within one school semester, 17% of students reported being bullied two to three times a month.  At least one in four teachers do not see the problem in bullying, and will intervene only 4% of the time. Teachers at Glen Rock tend to recognize the problem, and handle it sufficiently.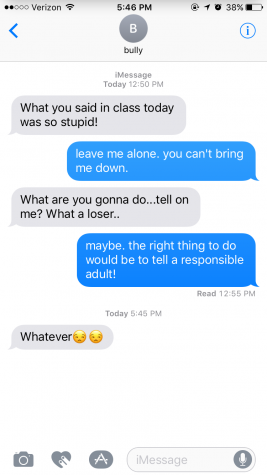 At a young age, kids usually tell a friend, teacher, or parent about the situation they are going through. When they get to around 14 years of age, less than half of boys and girls will talk to their peers about bullying. Physical bullying starts in elementary school, increases in middle school, and declines in high school– verbal abuse stays constant. It is depressing how more than half of the student population believe that their schools do not handle bullying, and the administration does nothing to prevent it– one in ten students drop out of school due to repeated bullying.
Students at school have a huge problem with their maturity on Snapchat. Videos and pictures are constantly being sent to each other, mocking and ridiculing each other from left to right. At a high school level, students should be mature enough to keep hateful and prejudice comments to themselves.
"I think cyber bullying can be an issue on social media like Instagram and Snapchat. I mean Snapchat videos can really hurt someone. Bystanders should always stick up for the person being picked on, but it's always easier said than done," said Michael Lee ('18).