Students sing praises of Coffeehouse 42
Whether it was striking a chord, reciting a verse, or hitting a high note, Coffeehouse 42 was packed with all kinds of talented musicians, writers, singers and all around performers.
Held twice a year, Coffeehouse is an acoustic event organized by the literary arts magazine Mobius, which is advised by English teacher Ms. Patricia Mahoney. This spring's Coffeehouse took place in the high school cafeteria at 7 p.m. on April 27 and included bands, solo acts, comedians, and poets.
"Coffeehouse actually started 21 years ago. One of my editors in chief of Mobius had been to a coffeehouse in Ridgewood and asked if it could be something that we could try here. It was a really wonderful success," Mahoney said. After having such good luck with their first coffee house, Mobius decided to hold another that year, beginning a tradition of two annual shows.
Many performers begin as underclassmen and continue singing or reading at Coffeehouse throughout their time in Glen Rock.
"You see such growth and maturity in the performers over time. It's always very emotional for them and for me I think to see the last one, to see the last show," Mahoney said.
This year's coffeehouse featured songs like If I Were a Boy by Beyonce and Creep by Radiohead. One student, James O'Rourke performed a comedy routine. Among the poets of the night were Caroline Geoghegan, Luke Blomstrom, Matt Lacognata and Ms. Margaret Todd. Todd was not the only high school faculty member to participate in the Coffeehouse, this year's lineup included five different acts that included teacher performances.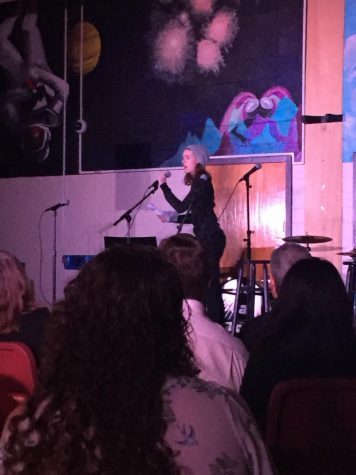 Caroline Geoghegan is a sophomore, and this year was her fourth coffeehouse. She read two original poems.
"I definitely feel some nervousness going in but it's definitely worth just the absolute pride you feel coming out. I love reading my poetry to people and this is the easiest way it's what made me start writing poetry because I wanted to perform," Geoghegan said.
Coffeehouse is a relaxed performance environment where all sorts of performers come to show off their variety of talents and personalities in just two or three minutes.
"I was able to make the audience laugh a bit which is always good, it loosens things up and makes them more relaxed," Geoghegan said.
Upperclassmen are also well represented in the coffeehouse shows. Kayleigh O'Connell is a senior this year and has participated in every coffeehouse since her freshman year.
"I kept coming back to do Coffeehouse because I just really enjoy the atmosphere of it. The audience is usually really supportive of the performers, the performers are always having a good time, and it's just a nice time for everyone," said O'Connell.
Having been in so many past shows O'Connell mentions the remarkable support and kindness from the audience and fellow performers involved, as well as the free refreshments and snacks always available at a Coffeehouse performance. Being a part of the graduating class, O'Connell also says that this past Coffeehouse will be the one that sticks out the most and holds a special place in her heart.
"I would definitely suggest Coffeehouse to underclassmen and newcomers. If someone wants to try performing for the first time Coffeehouse is the perfect place to do it. You don't have to worry about anyone laughing at you or making fun of you," O'Connell said.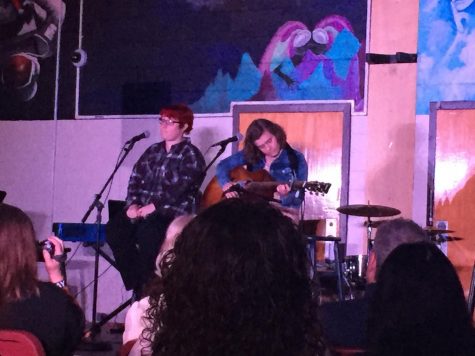 This show is a great opportunity for someone looking to perform or to simply find somewhere to read their poetry out. It's an accessible event with a short sign-up process and a positive environment.
"Maybe you don't want to perform. Maybe you're not confident in whatever abilities you have, maybe it's just not for you but definitely come to the Coffeehouse and see what we have to offer," Geoghegan said.
Coffeehouse is self-funded and organized by Mobius. The event pays for itself through ticket sales, which were high this year's acoustic event.
"We have so many other events that occur during the school year that simulate a rock concert and in this we are really trying to simulate the old coffeehouse of the sixties. It's just something a little bit different,'' Mahoney said.
Mahoney would like to say 'thank you' to the maintenance crew at Glen Rock, Tyler Richardson and Brennan Boyle who worked with technology, the Tech Department, the English Department and the school administration for its support.