Ten things to look forward to in April
1. Ally Week
Support your LGBT community during ally week, April 3 through April 7. The GSA Club encourages you to become an ally to stand up against bullying, harassment, and name-calling. For those of you interested in participating in the Day of Silence, reach out to the GSA Club for more information or contact Mrs. Nicole Rusin at [email protected].
2. End of 3rd Marking Period 
Need a fresh start? Didn't get the grade you wanted in your history class? Here is your chance to change that. The third marking period is drawing to a close. Make sure you have all of your work handed in before April 7.
3. Spring Break 
Whether you are taking a plane to a tropical destination, going on college visits or just spending time with family and friends, school is closed April 10 through April 14 for spring break. Toss those textbooks aside and try something new.
4. Easter Sunday
Break isn't over yet! If you're someone who gets the Sunday blues, that can change April 16. For those of you celebrating the holiday, grab your Easter baskets and hunt for those eggs!
5. Early Dismissal 
Students will follow an early dismissal schedule on April 20, to be released at 12:26 pm.
6. HS Choir Trip 
Hop on a plane and catch our very own choir students in Orlando, Florida this spring. Members of concert choir, women's choir, and chambers choir will be competing April 20 through April 23.
7. Take Your Child to Work Day 
On April 27 make sure to scan the halls of Glen Rock High School extra carefully. You might see a few unfamiliar faces.
8. Coffee House 
If you've finished all your homework and are looking for something to do, stop by the cafeteria on April 27. All who are interested should arrive at 7 pm for a night of performances from our high school students here at Glen Rock.
9. MET Opera Trip
Choir students will be heading to The Metropolitan Opera in Lincoln Center, New York, NY on April 28 to witness the rehearsal of the play Cyrano De Bergerac.
10. Senior Prom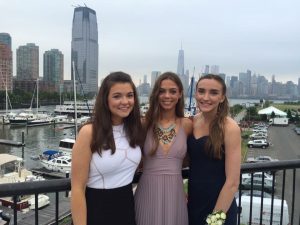 A day filled with smiles, laughter, selfies, and bittersweet moments for our seniors will be held at The Westin Governor Morris on April 28.