Relay For Life kicks off another year
The Relay for Life Club held its annual kick off event on Tuesday, Feb. 7 at 7 p.m. in the high school cafeteria.
The kick off celebration provided baked goods, raffles, prizes, and merchandise that raised money toward the June 10th to 11th relay. The club presented a variety of guest speakers in addition to short clips promoting Relay For Life.
Host Ms. Amanda Sproviero is co-captain in charge of the high school teams together with Ms. Rochelle Forstot.
"This is when you learn about what relay is and it's really inspirational. I think to see the videos and people speak you really realize what relay is about," Sproviero said. "I try to encourage all of my students to come and get the community involved."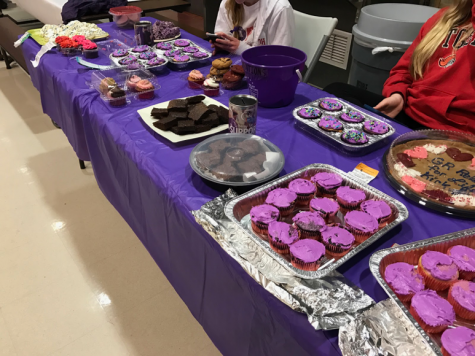 Relay For Life kick off happens every year to promote awareness and start fundraising to take action against cancer. Volunteers devote their time and effort to bring communities together to honor survivors, recall loved ones lost, and raise money.
The club's hard work was similar to other efforts in past years to boost participation. There has been a change to one big glen rock high school team used in past years, hoping to create more unity. Neon "the future is bright" was voted the relay theme for this year.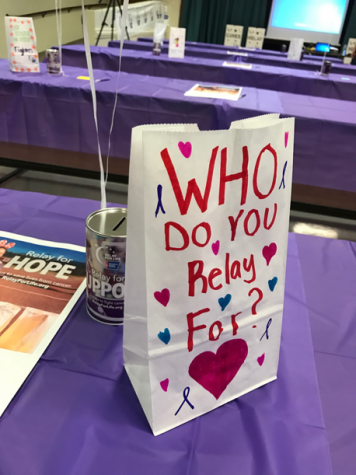 "We put as much time and effort into planning, and into fundraising ideas that we can," Sproviero said.
Co-captains for the junior class Mia Seibold and Jordan Russo emphasize fundraising. The girls are part of the Event Leadership Team in charge of planning events, themed laps, getting speakers and encouraging everyone to sign up.
Seibold and Russo are also in charge of all social media for the high school Relay For Life team. Seibold adds, "Anyone can sign up on the Relay For Life website and create an account. We have a GRHS Team Snapchat, Twitter, Facebook, and Instagram accounts @RFLofGlenRock. We can be contacted through any of the social media or via email."
Family and friends were all welcome; this was a community event. Sproviero reveals the want for a bigger participant group from elementary school and middle school kids.
"I've been involved with Relay For Life my whole life. It's a great way to to be a part of a good cause and become closer to your community," Seibold said.
"
It's a major community event. I wanted to be a part of that and do something good not just for myself but to also help donate to the cause"
— Jordan Russo
Survivor speaker Brian Weinberg, long term math substitute, caught the attention of audience members. His brief yet emotional story changed his demeanor and gave him the opportunity to give back.
Seventeen year old Weinberg was diagnosed with thyroid cancer his senior year of high school. Through surgery and radiation therapy he became cancer free. With the intention of being treated the same, he kept his news on the downlow. When his 14 year old sister decided to participate in Relay For Life, he was asked to be a part of it.
"Relay life was a way for me to tell people exactly how I feel. I do think it's a wonderful organization I will definitely be there," said Weinberg.
After hearing Weinberg's story, Sproviero said it is stories like that that give people a new perspective on life and that is something she hopes Relay For Life continues to do.
Sophomore co-captain Haleigh Duncan adds reacted positively to this year's kick off event.
"I've definitely changed my perspective on cancer after joining Relay For Life. I hope more people come," said Duncan.