Snow day like today
Students might want to reconsider flushing ice cubes down the toilet, leaving a spoon under your pillow, and other snow day-summoning myths when it could be at the cost of spring break. Snow days can require the town to take back assigned days off from spring break.
According to Principal John Arlotta the district calendar contains provisions where days would be given back from set vacations. The Board of Education decides Glen Rock's district calendar, including how many snow days will be accounted for. It is necessary to edit the calendar after facing multiple unexpected weather conditions because "we must go to school a specific amount of days by NJ code," Arlotta said.
Carolyn Settlow has been a social worker at YCS Fort Lee Education Center for almost three years. The Fort Lee district usually plans for four snow days. The Glen Rock school district, where her daughter attends, has also allotted four emergency days this year. Settlow thinks that it is fair to take days out of our break because the school year has to consist of at least 180 days.
Such a sentiment is echoed by the Glen Rock Superintendent of schools.
"[Glen Rock] exhausted its emergency days during 2014-2015 school year," Dr. Paula Valenti, Superintendent, wrote via email. "I believe taking the school days from the spring recess is the least problematic solution to meeting the required school day attendance requirement by NJDOE. The only other action would be to extend the school year."
The Glen Rock Board of Education approves the annual district calendar as well as the emergency closing days.
"A snow day is governed by a variety of factors. Number one is student and employee safety. We consider the weather conditions when a snowstorm is predicted and arrives according to prediction. Sometimes, weather forecasters have issued incorrect forecasts, so this can complicate the task. Generally speaking, when there is a winter storm, I am on the phone with the Business Administrator and other key staff at 4 a.m. discussing the issue," Valenti said.
The decision to call an emergency closing occurs just hours before the school day starts.  A delayed opening does not affect the use of an emergency day because school is considered to be open the requisite amount of time as per the state. Glen Rock is required by the NJDOE for students to be in school for a minimum of 180 days.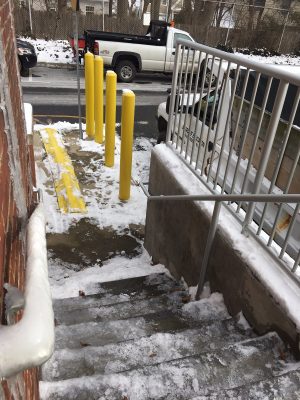 "The Glen Rock Public Schools' Board Of Education approved calendar specifies what happens when we exhaust all emergency days. The calendar is available from the front page of the GRPS website; click District Home," Valenti  said.
Although commonly the case, emergency closing days don't have to be used for snow.
Valenti said that the current structure is unlikely to change.
"Everyone likes vacations from school, and everyone enjoys getting started with their summers, too. I think the current practice is the least disruptive path."