Underrated hockey team almost catches up to Glen Rock
Senior captain Jake Kinney exhorted the boys up to finish the game strong and take the 8-5 win against Paramus Catholic on Sunday night in the Hackensack Ice House.
The Glen Rock boys hockey team had felt confident on Sunday as they skated onto the ice. The boys were predicted to beat Paramus Catholic by a large margin, yet Glen Rock almost fell short. Despite the hiccup, they were able to add a fifteenth win, making their record 15-3-2 for the season so far.
"We were predicted to win," junior center Matt Maselli said.
Two years ago, they beat Paramus Catholic twice: 4-1 and 3-1.
Dynamic duo John Lamacchia and Matt Maselli worked together to get a goal.
"Johnny got a quick shot off, the rebound came to me, and I took a backhand shot and it went five hole," Maselli said.
Senior defender Colin Morrow had two out of the eight goals, along with senior Peter Cassidy with two, senior captain Jake Kinney had one, and juniors Derek Kelly and Eddie Corvelli had one each.
"My first goal was a slap shot from the point. It was right off the faceoff on a power play. Peter screened the goalie and I just found an opening," Morrow said.
Anthony Yelovich, Zane Kalemba, and Dillon Driver are the coaches for the hockey team. The boys recognized Anthony Yelovich for telling them to play their game.
"Coach came into the locker room and told us to settle down and play our game," Cassidy said.
Yelovich told the boys to stick to their systems, and they would get the results that they wanted to get. Even before the game, Yelovich told them to not take them lightly. When they were down, he told them that in order to come back, they couldn't panic.
The leading goal scorer and Captain, Jake Kinney has a total of 20 goals and a lead of 21 assists. Peter Cassidy has 16 goals and 12 assists. Cassidy got two assists on Sunday against Paramus Catholic.
Left Wing Derek Kelly had the opening goal of the game. Kelly had one goal and one assist on Sunday.
"After the second period when we went back in the locker room our captain, Jake Kinney told us to stick to the plans and that we are a better team and everyone was ready to come out hard for the third," Kelly said.
Colin Morrow believes that the team took Paramus Catholic lightly to start the game. Since they took the lead, they assumed that they would keep it, but it took them until the third period when they realized they had to play their best and take the win.
"We just never gave up. We knew that we were the better team and there was never any doubt that we could win the game even when we were down by two," Morrow said.
The Glen Rock hockey team learned from what could have been a tie or even a loss, and turned their mindset into pure aggression and held a positive attitude to come away with the win.
The boys are playing again on Wednesday night, Feb. 1, against Seton Hall Prep at 4:15 at the South Mountain Arena in West Orange.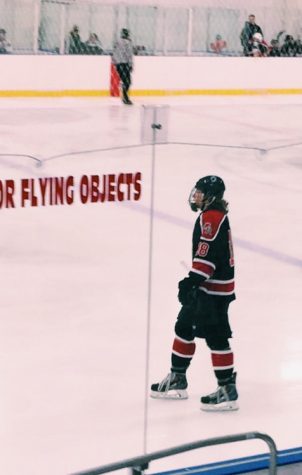 Photo Credit: Katie Kelly