Turkish Delight
Run by the former owner of a successful Turkish bakery brand, Merve's Bakery on Rock Road serves a Middle-East/New York fusion of pastries, breads, and other baked goods.
One cramped hand whisked while the other hand wiped the sweat and flour off her forehead, yet her stubborn smile flashed in front of the crowd of fellow, hungry classmates crammed into her tiny home in Istanbul, Turkey.
For Merve Sibel Uyarli Gunduz, hosting has been a passion since she was just a girl; it was a passion too tempting not to indulge in. Gunduz recently opened Merve's Kitchen and Bakery on Rock Road, taking the place of Carrera Cycles, the closed bicycle shop. Though she is new in town, she is no rookie when it comes to the bakery business.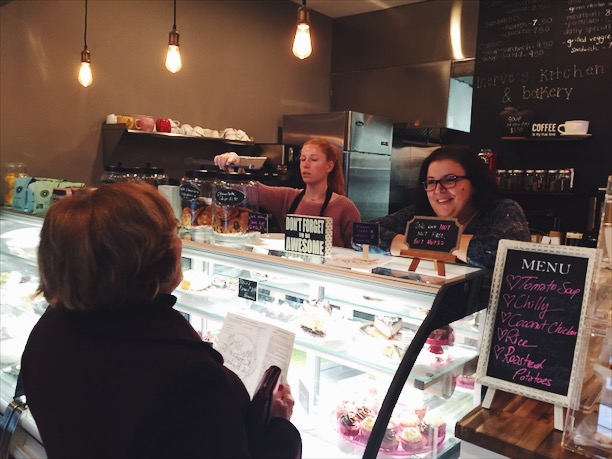 Gunduz worked a corporate job in Istanbul for five years until she was promoted to marketing director. She was grateful for the position, until one day her heart overcame her reservations and she quit. She was tired of devoting so much time towards something that didn't bring her genuine happiness. It was finally time to follow her dream and open her own bakery.
The bakery was meant to be very small. It was located on the first floor of a boutique hotel in the heart of Taksim, Istanbul. Her brand was called NY-IST. Before the decision to open a bakery, Gunduz had moved back and forth between New York and Istanbul following her husband and his shifting job assignments.  She fell in love with both the locations so much so that she named the brand after them.
"When I was in Istanbul I craved New York and when she was in New York I was miserable because of how much I missed Istanbul," Gunduz said.
Before she knew it, the store became more successful than she ever expected. It was named "Istanbul's Best Pancakes and New York Food." The brand soon added a food truck and its own cupcake shop. For a while, Gunduz was pleased with the success of a project that she never thought would receive any recognition at all. Soon enough, though, she became caught up in the stress of managing her expanding brand and felt that she lost sight of the authentic reasons that caused her to open the bakery in the first place. The stress had no place in her ideal life.
"
Glen Rock in general really just stood out because it clearly such a great town; the people support each other a lot. Even the small businesses support each other which is a very good plus that you don't find anywhere else."
— Merve Gunduz
Gunduz decided to sell her brand to someone else so that she could move her family back to the United States and get a fresh start. When she found the available space in Glen Rock, she never imagined she would be able to rent it. She believed that if you wish hard enough, anything could happen. In the end, wishing paid off for Gunduz.
"The space felt very much like home, it's very cozy," Gunduz said. "Glen Rock in general really just stood out because it clearly such a great town; the people support each other a lot. Even the small businesses support each other which is a very good plus that you don't find anywhere else."
When employment opportunity flyers were hung up on the senior bulletin board, students were quick to take up the opportunity and contacted Merve as soon as possible. Nikita Eglis, Erin Dunn, Erin Callahan, David Martinez, Matt Lacognata and Emily Cornell currently work at Merve's Kitchen and Bakery.
"I think it's a really nice place to hang out and we don't have anything like it in town," Eglis ('17) said. "Working there is a little overwhelming right now because it's so new to me, but I will get used to it for sure."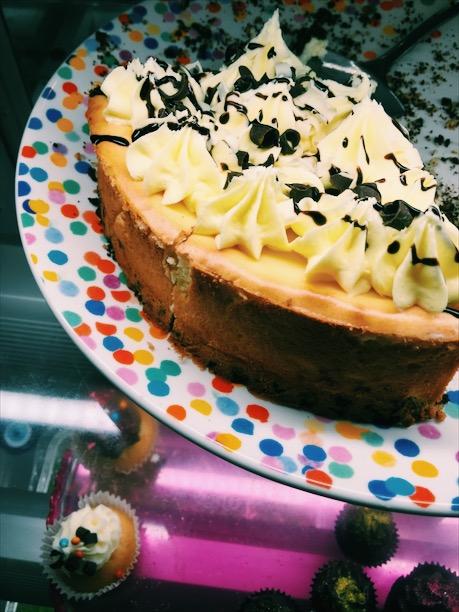 Gunduz is very pleased with all her high school employees. She also wants to offer a 10% discount to all Glen Rock High School students.
The shop offers breakfast, lunch and dinner options, as well as kid-friendly food. Gunduz's favorite item off the menu is the Borek, which is a savory handmade pastry that comes in a variety of options. Merve's Kitchen and Bakery sells it with feta cheese and parsley or ground beef and potatoes. Ninety percent of what the store sells is made in house.
When asked if she had dreams that she still wanted to accomplish, Gunduz's response was surprising.
"My biggest dream, well it may sound weird, but is to keep the store exactly the way it is," she said.
She said that she is a an upbeat person and wants to preserve that nature within her. She now realizes that expansion is a bad habit because she would put so pressure on herself. She doesn't want to deal with that anymore. There is less time to enjoy the things most important in life.
"This is just how I wanted, but we are still missing a couple things like some flowers and decorations but no rush, this time no rush," she said.