Challenge accepted: Recent Instagram trend advocates suicide prevention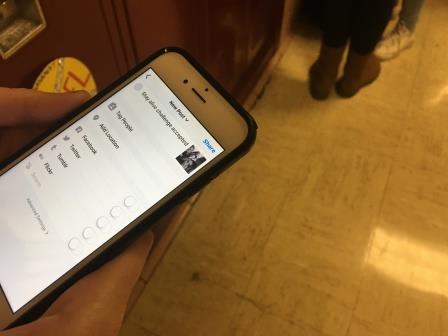 Depression, anxiety, suffering. These are a few words that describe a challenge many face today. The challenge? Staying alive.
Recently, suicide prevention is being promoted on Instagram, a popular social media platform. When a user scrolls through his or her feed, one may see a picture with the caption "stay alive challenge accepted." Upon hitting the like button, they are sent a message which instructs them to contribute to the cause and post a picture of anything with the same caption.
"The pictures represent a powerful message of community. Knowing that while we may not have the same struggles, we're all in it together," guidance counselor Laura Vargo said.
The purpose of the "Stay Alive Challenge" is to inform people about preventing suicide. By accepting the challenge and posting a picture, users have decided to join the battle of staying alive, yet the challenge is mainly meant to benefit others.
"I accepted it because I believe that kids today are under a lot of stress and pressure and that can lead, in severe situations, to suicide," junior Sophia Brown said.
With a click of a button, the phrase 'stay alive' is broadcast over the social network to reach people who may need to hear it. Suicide is an action which many hope to prevent, and when one spreads awareness on Instagram, they reach a large audience. With over 500 million users, Instagram has become a go to site for people to draw attention to topics such as childhood cancer awareness or the ALS disease.
"Social media is something that reaches a lot of people in a very quick period of time," student assistance counselor Danielle Helder said. "It has a very strong influence on what people are thinking and feeling."
Much like social media, music is an influential and relatable medium that reaches a large audience. A popular trend for many who have accepted the challenge is to upload a picture of the alternative band Twenty One Pilots. A fan website of the band encourages the phrase "Think. Create. But most importantly, stay alive." The band often produces songs in reference to topics such as depression and suicide, and they have an audience that tends to use their music to get through tough times.
"Music is an interesting thing because people connect with it," Helder said. "A lot of times, their stories are put into words and it makes them feel that someone understands exactly what they're thinking and feeling."
Although posting a picture may be the most convenient way for some to contribute to the cause, it is not the only way to prevent suicides.
"I do care. I just rather show my support for something another way than posting a picture," junior Nina Amatulli said, "I feel like I'd be able to show more support by being more aware of others and able to help."
Reaching out, looking for signs of suicide in a person's behavior and communicating with someone trusted may help save a life.
"The first starting point is to find that person you feel safe and comfortable with and just to say something's off and I don't know what," Vargo said. "The worst thing that we would see for students is that they continue on without talking to anybody."
In some cases, depression can ultimately lead to suicide. Helder described the signs of depression as changes in a person's behavior: from an adjustment in eating and sleeping habits, to feeling sad and isolated. When depression becomes more extreme, tasks like getting out of bed and going to school become more difficult.
"That's when things start falling apart and that's when you start feeling suicidal," Helder said.
Some sources that are open to students and anyone experiencing or suspecting depression or suicide are guidance counselors, Helder herself and outside the school are therapists and psychiatrists.
"It's a really important issue and its becoming more common or more spoken about than it had before," Helder said. "Sometimes the more expectations put on someone, the more at risk they are."
If you are or know someone who needs help please contact the suicide hotline.