Competing outside the norm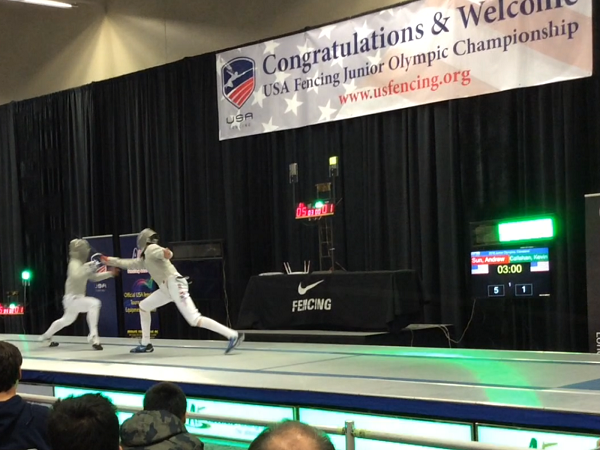 The sport with swords, better known as fencing, is uncommon at most high schools yet students still partake in the non-traditional sport.
Junior Kevin Callahan has been fencing for five years through the Bergen Fencing Club in Ho-Ho-Kus and the Peter Westbrook Fencing Club in Manhattan.
"I knew right from the start it wasn't going to be an option as a high school sport," Callahan said. "That was kind of upsetting that I'm never going to have that high school experience as a sport, but it never discouraged me."
Playing for a club team and a high school team have their differences. As a fencer on a club team, one would compete specifically for himself, whereas when fencing for a high school team one is competing for the school.
"Club fencing is very different than school team fencing," said Callahan's father Donald Callahan, "It has a different format and the competitions are different. Club level tends to be a bit more competitive because of the dedication required by athletes."
Ramapo High School has had a competitive fencing team for many years, that still belongs to their school.
"You're not just accountable for yourself but also for your team," said Ramapo High School's fencing team alum Ashley Severson.
It is more common for athletes to opt to represent club teams instead of high school teams, because it is easier for them to get exposure to colleges when looking to play for one. When fencing for a club team, travelling farther than a bus ride is involved; most of the travelling is by plane ride due to the location of events.
Club teams also require some national travel as well as international travel. Callahan represents his club team and the United States when competing in international tournaments.
"Kevin has travelled all over the US, and last year, he fenced at the World Cups in Hungary and Poland," Donald Callahan said.
At a club team's tournament, all different age levels are there, including college athletes and coaches competing for their school. However, at high school tournaments it's strictly between high schools.
"College fencers go to these tournaments, and that's where the college coaches go," Severson said, "they coach their fencers and they're also seeing who's up and coming."
Currently the school doesn't have a fencing team, but there has been a team in the 60's and 70's. There was also a fencing club in the mid-2000's, inspired by when fencing was once part of the physical education curriculum.
"We actually used to do fencing in Phys. Ed. so we said why don't we try to do a club," said physical education teacher and former fencing club adviser Bonnie Zimmerman. "We wanted kids to get out there and be more active, so it was a fun way of doing something different."
The club came to an end when the majority of students in the club graduated and the equipment was no longer intact. However, according to athletic director Frank Violante, the fencing team could form again in the future
"We'd have to have interest," said Violante, "we'd have to find a large number of athletes that want to participate in fencing."
Due to low participation in high schools, fencing is hard to come across, but it is still as demanding as any other high school sport according to Callahan.
"It requires a lot of dedication and commitment," he said.