University admission officers attend College Fair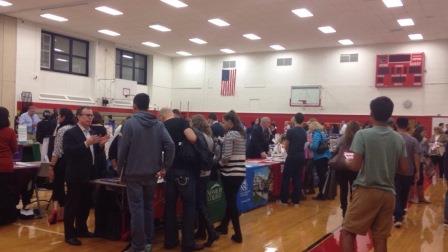 Dozens of college representatives and students attended the College Fair in the cafeteria and gymnasium on October 27.
The College Fair brought over 100 colleges together in an interactive event. Parents and students were able to speak one-on-one with representatives and learn about the process of admissions and programs offered in the different colleges.
"The College Fair allows me to share my passion for the institution and also share all the wonderful things that it might have to offer students of Glen Rock and the surrounding communities," assistant director of admission at Wellesley College, Molly Morrow, said. "I also think it's a pretty dynamic environment, and one that hopefully multiple students can interact in, while engaging with all things Wellesley has to offer at the same time."
According to attendees, the night itself provides multiple opportunities for not only students and parents, but college representatives as well.
For students, one concern is the chance of acceptance, whereas parents may worry about what programs are exactly offered. The representatives themselves are more curious about their prospective students, and what he/she have to offer beyond his/her application.
When considering applicants, admissions directors may be clueless as to what sort of people lie behind the text they submit. Face-to-face interviews therefore, may be helpful for these decisions and have proven to be more comfortable than those made at campus tours.
"The College Fair can be seen as a 'one-stop-shopping' introductory event for many students who are just beginning to investigate the college selection process, as well as an opportunity for seniors who might still be undecided about what they want to do after graduation," guidance administrative assistant and College Fair organizer Mary Wolos said.
For those undecided about the field they may want to pursue in the future, a formal introduction of institutions' programs is included. Although some programs may be discovered online, elaborate explanations are better provided in person. Also, more details and updated information can be found face to face, rather than online.
"The colleges were all really nice and seemed to have really good programs for what I would consider doing," sophomore Emily Silvestri said. "It gives students a good idea what each college offers and what the expectations are."
According to Silvestri, students may assume that the major thing that will get them into college is their grades. However, most of the admission process depends on what students get involved in with after school.
"We look for applicants that are not only willing to seek out challenges academically, but are also leaving their mark on their community, and that can take form in a lot of different ways," Morrow said. "Essentially, it's a student that is very engaged in their community and will bring some value to our campus, in addition to being a serious student with a vision and purpose in their life."
For many, college seems like a future obligation and not something to worry about now. However, the College Fair makes it easy to meet and interact with different institutions and get an idea in mind of what seems like one's best options.
Since approximately 1987, between 120 and 140 colleges attend annually and provide new and specialized experiences for those interested. All are welcome to enjoy this educational event and learn more about one's not-so-far-away future self.
"I learned what I need to do to improve my chances to get into some colleges. Anyone who didn't go should attend when they have it again, because it's really useful," Silvestri said.