Senior starts off the hockey season with the New Jersey Devils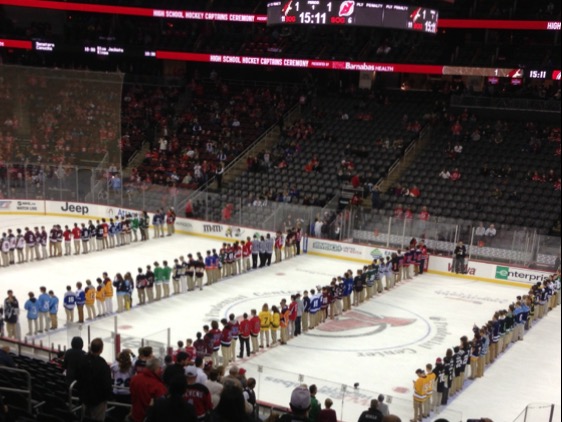 by Kate Casey, Advertising and Business Manager
November 14, 2016
Varsity hockey center, Jake Kinney, attended the eleventh annual Captains Night hosted by the New Jersey Devils at the Prudential Center on Oct. 25.
Kinney was chosen to represent his team as a skillful and well-respected senior. After about 13 years of playing hockey for the Avalanche at the Ice House in Hackensack and the team at school, this is Kinney's last year playing for Glen Rock.
The New Jersey Devils welcomed 93 high school hockey teams, one of which was Glen Rock. The players were given tickets to the game along with a chance to walk onto the ice where thousands of professional hockey players have skated. Students also met several current and former Devils players who gave them advice on how to lead a team. Bryce Salvador and Colin White spoke to Kinney and other players about responsibilities as a teammate and leader.
"It was incredible. I was able to be on the ice last year during the final and had amazing experience and I hope to get that chance again this year," Kinney said. "It was an honor to be chosen."
Although team captains have not been officially announced, Kinney was the only player nominated to represent Glen Rock's hockey program. He is two goals away 141, his brother Jimmy's record as the all time leading goal scorer.
Varsity defenseman, Colin Morrow, has played with Kinney throughout high school.
"He controls the game very well. He's a very smart player. When you watch him for the first time he doesn't try to do too much, he plays simple, he's very effective that way," Morrow said. "He's someone that when you're playing games with him you don't notice him but when you're playing with him for a long period time you really start to notice him and how effective he is."
"
He has tremendous game sense, he's very coachable, he's got a great attitude."
— Mr. Fernandez
Mr. Zane Kalemba is a new hockey coach this year and from the start he was told how amazing Kinney is.
"I have not yet seen much of Jake on ice," Kalemba said. "But as a person he is a great kid who truly cares about Glen Rock hockey. In speaking with some of his teammates, he is hardworking and well-respected among his peers and a talented player from what I have heard, so I think he will have a big role in leading our team."
After coaching for several years, former varsity head coach, Sergio Fernandez, has build a strong relationship with Kinney.
"He has tremendous game sense, he's very coachable, he's got a great attitude, he's been one of the few freshmen that came in and we just threw him in the varsity lineup and it didn't even phase him," he said. "On my team he would be the captain and I'm pretty confident the coaches will want him. He could be a captain on any team."
Kalemba also attended the Devils game with Kinney and his father.
"It was a great experience watching all the captain's line up on the ice during intermission. Jake did a spectacular job representing our team and our school," he said. "The Devils were victorious on a two-goal effort by newly acquired Taylor Hall. It was a great experience overall, and I had a blast watching some of the game with Jake and his father. "
Glen Rock has been invited to this event for several years: alumni Peter Bolt, Tom LaMacchia, Eric Spada, and several other have attended in the past.
The team's first official game is against Wayne Valley at the Ice Vault on Nov. 26 at 8 p.m.
"I think we're going to be good, we have a lot of good returning players and some new up-and-coming players as well. We're strong in all positions. I think we'll do really well," Kinney said.
About the Contributor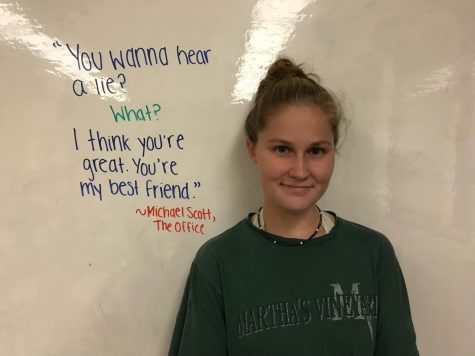 Kate Casey, Editor-in-Chief
Kate Casey is a senior at Glen Rock High School and this is her fourth and final year writing for The Glen Echo. She volunteers at a tutoring program for...