Boys' soccer stays alive with state win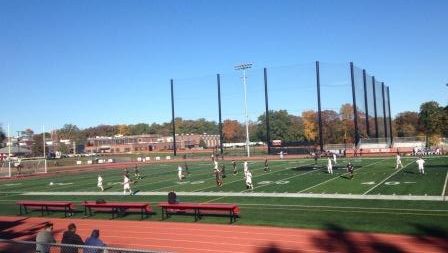 The last time the boys' soccer team faced the Wallkill Valley Rangers, they were looking to advance to the 2013 North One Group Two Quarterfinals. Three years later, they faced the same opponent with the same goal in mind.
The boys' soccer team defeated Wallkill Valley 2-0 on Monday, Oct. 31 in the North One Group Two round of 16. The team entered the game determined to continue their season, as well as their push towards a state championship.
"We passed well and created a lot of opportunities for open shots," said Kevin Hargadon ('17) who scored a goal in the game.
After a loss to Newton in the round of 16 last year, Glen Rock entered Monday's game hoping to come out with a better result in this year's opening round. As the sixth seed in this year's tournament, the team had more confidence than in last year's game against Newton, where they were the 14th seed having to play one of the best teams in the tournament.
"This year being a six seed boosted our morale going into the game, whereas last year we all knew that Newton was an excellent team and made some of us kind of nervous," senior captain Will Connor said.
The game began with neither team being able to get the upper hand. It was not until 25 minutes were left in the second half that Glen Rock finally broke through. Kevin Hargadon put in a rebound goal off sophomore John Corry's shot.
"I just really hoped that I wouldn't miss from that close," Hargadon said.
Following the goal, Glen Rock continued to control the game and keep possession of the ball for a majority of the remaining time. Wallkill Valley's biggest chance came in the second half as a Ranger striker had a potential breakaway that was prevented by a diving effort from Glen Rock goalkeeper Luke Fisher ('17).
"The first ten minutes could have gone either way, but after that I felt that we were the better team," Connor said. "We also kept pressuring them, and although we didn't score a lot, we had way more shots than them and I knew we would eventually put one in."
Glen Rock's biggest worry came late in the second half when junior Justin Kochman received his second yellow card, putting Glen Rock a man down. Despite the disadvantage, the players maintained their composure and protected their 1-0 lead.
"We knew what we had to do," Connor said. "Just drop another [player] back, but we had the run of play so I was confident."
With time winding down, Mark Buckel ('19) gave Glen Rock an important insurance goal. The student section began to dissemble and parents  players continued high-fiving about the win that would soon come. The referee blew his whistle one last time as the players gave a large sigh of relief. The bench stood up to clap, as did the parents. Players hugged one another before lining up to congratulate Wallkill Valley on their season.
With the win, Glen Rock advances to the tournament quarterfinals, where they will play third-seeded Mahwah, who defeated Lenape Valley 5-0 in their round of 16 match. The game will be played on Thursday, Nov. 3 at Mahwah High School. Despite being the lower seed, Glen Rock players have confidence as they prepare for the upcoming match.
"We respect Mahwah and know they're a good team," Connor said. "But we have to believe in ourselves and we'll be fine."