Boys' soccer looks to continue successful season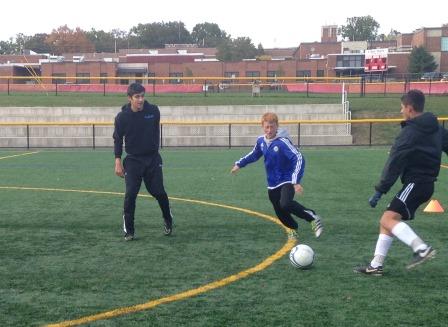 Players continue to fight for victory on the field as the season comes to a close for Glen Rock High School soccer. The boys' varsity soccer team led by Mr. Casey Schick as coach has already played through most of the 2016 fall season, with a few games remaining.
Since its first game against Manchester Regional High School on Sept. 8, the team has a record of 10-5. The team consists of a number of seniors, juniors, sophomores and a sole freshman. The regular season will conclude with a match on Oct. 28 at Hawthorne High School.
"I think we're strong in many points," said Coach Schick, who is coaching for his seventh year. "We keep the ball pretty well, we move as a team up and down the field, defensively and offensively as a unit."
The team has had more difficulty winning at home than on the road, with three out of the five losses being at home games. Students who attend home games state that the student audience is low, and team staff members desire a larger audience. However, the team has been generally successful in ways other than the outcomes. Players cooperate with each other and improve as a whole.
Conor Daly, the only freshman on the team, has had little disadvantage due to his age likely due to this healthy level of chemistry.
"Practice generally goes smoothly," Daly said. "We cooperate well, and everyone is friendly on the team."
Kavi Singh, a freshman who takes interest in soccer and who has attended a number of home games, suggested that low attendance of students at game may be a result of the scheduling of several games during the week as opposed to on weekends.
"I just so happen to live pretty close to the school," Singh said. "Most people are very busy after school, and they aren't as lucky as me."
The slight lack of fans has certainly been recognized by Coach Schick, who has suggested the possibility of larger publication of the games.
"I would definitely prefer a larger audience," Schick said. "If we maybe let the entire school know about our games prior to them, then maybe we could get some more attendance."
The season is not over yet; six-seeded Glen Rock will play eleventh-seeded Wallkill Valley on Monday, Oct. 31 at in the opening round of states. The Panthers will have home-field advantage in what hopes to be the beginning of a successful state run.