Breakfast honors senior cheerleaders, football players
Football players and cheerleaders held their annual breakfast, filling their stomachs before boarding buses to Lodi football field.
The breakfast was held on Saturday, Oct. 22 in the high school cafeteria. At 1 p.m., the Panthers played against the Lodi Rams for a win on the Rams' home turf.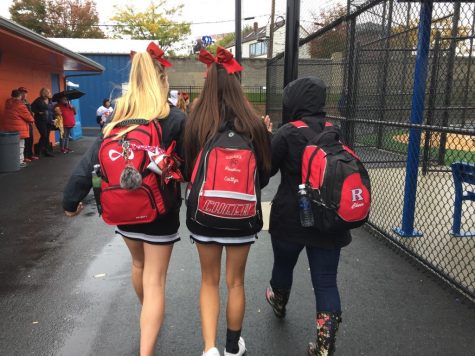 Senior Sophia Arnao looks forward to the annual breakfast every year.
"It's with both teams together and I make a lot of memories every year with my teammates. It's more memorable for me this year, granted I'm senior, and my family gets to see me honored as a senior cheerleading captain," Arnao said.
Players, coaches, and family members took this tradition and time together to reflect on each team's achievements in the season so far.
Attendees arrived by 8:30 a.m. to hear speeches made by coaches. Following the speeches, the Glen Rock Inn catered a meal. The event was organized by a group of captain parents and volunteers, who all contributed in keeping this panther tradition a success.
Senior cheerleader Katie Trahan said that most of the organization was done by Claudine Ray, mother to football players Rob and Tim Ray.
"She did a great job keeping all the parents on task. It involved a lot of emailing and following up with that and then just showing up the night before to decorate and help set up for the morning," Trahan said.
Cheerleaders helped parents out Friday night prior, hanging up posters exhorting football players on the cafeteria walls.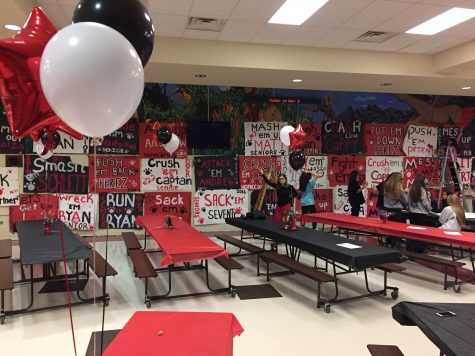 At the end of the ceremony, the senior football players handed off a rose to an assigned cheerleader. The girls were escorted through the cafeteria aisle in front of their families.
"While walking past all the parents, I thought to myself how crazy it was that I was actually a senior in high school and that this would be my last year cheerleading with these girls," Drace said.
Parents of the athletes took pictures in between the decorative panthers at the end of the senior rose ceremony. Rows of families waited for their turn, while flashes from cameras and phones went off from every direction.
In past years, the teams had the breakfast before homecoming festivities. Due to the PSAT being conducted in the high school cafeteria, the ceremony was moved to the following Saturday.
For future years' parents, Trahan says that having a good committee of parents is crucial to staying organized.