Farmers' market grows into tradition
A farmers' market will be held at Glen Rock borough hall on Oct. 23, a Sunday.
The farmers' market was organized by resident Alison Bloomfield, mother of sophomore Jack Bloomfield.

Bloomfield decided that she wanted a farmers' market in town about a year ago after hearing that the town wanted one. She spoke to the head of the Ramsey farmers' market who initially discouraged the idea due to the complexity of starting one.
The plan was put on hold for about six months after the conversation with the representative from the Ramsey market.
In May, the plan was set back into action by Bloomfield after a conference call with interested residents that wanted to participate.
"I decided that I was in wholeheartedly," said Bloomfield.
The next step was to recruit Laura Occhipinti a resident who Bloomfield described as a "great marketer."
Bloomfield wanted to host vendors who grew their own produce.
Although many vendors were from Glen Rock or close by, others traveled some distance to sell at the market.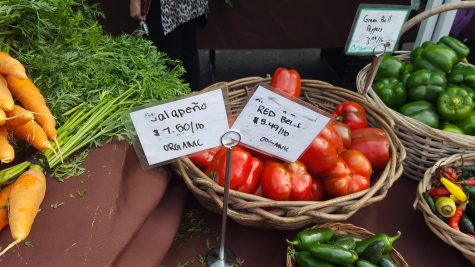 Linda Montefusco and her family have a maple farm in the Adirondacks; they heard about the market through Facebook and decided to sell their maple lemonade at the market.
"We saw it on Facebook, saw that it was a great market, and we're excited to give it a try," said Montefusco.
Although it's a farmers' market not everything has to be organic due to the strict guidelines to have produce considered organic.
"We'd like them to be organic but that cost a lot of money for these farmers'," said Bloomfield.
Instead, Bloomfield opts for the produce to be locally grown and use organic methods while growing the produce.
Students can sign up to perform live music at the market. Volunteering at the market counts as community service hours.
Even with  the market only opening twice so far, it has attracted many people. The turnout was high for both events even with the rain on the market's opening day on Oct. 7.
"Despite the rain, it was still a big turn out," said Ellie Tahan, a parent who has attended both markets.
The market's final day is on Sunday, Oct. 23