Following her own path at beauty school
For the rest of high school, junior Frankie Fontana is going to have a lot of makeup work. Not because of missing assignments, but rather the fact that she'll be attending beauty school to become a cosmetologist.
For the next two years, at Roman Academy of Beauty Culture Fontana spends her afternoons, learning an array of beauty styles and techniques. Being interested in makeup and beauty for almost her whole life, she is thankful for this opportunity and loves what she is able to do.
"I definitely think I took a big leap of faith by going, and it was very worth it," Fontana said.
Once most students graduate Glen Rock High School, it is common for them to attend a college. However, Fontana is going in a different direction and is already beginning to live her dream. She is able to simultaneously attend high school and beauty school by taking her required academic classes in the morning, then hopping on a bus to Hawthorne where The Roman Academy is located.
This unique type of schedule is possible thanks to a part time share program the school offers, which is usually a half day. Fontana's day, however, is often longer due to the number of hours which must be completed at beauty school in order to graduate from The Roman Academy.
"I need 1,200 hours to graduate so I'll probably finish my junior year of high school with 600 hours," Fontana said, "Once I finish my senior year, I will have my 1,200 hours, then I have to take a state board exam to get my license, and then I can work."
Approximately three to four hours are needed each school day for Fontana to stay on track with the requirements. The curriculum consists of practical work, like styling hair and doing makeup, as well as textbook work, which includes memorizing definitions.
"It's not just having fun cutting hair everyday. It's a little challenging," Fontana said.
Although this step in Fontana's career path may be challenging at times, she was certain that the cosmetology part time share program would be right for her. Glen Rock High School offers  this program to anyone interested in topics ranging from cosmetology, culinary arts, or even auto mechanics.
"
I definitely think I took a big leap of faith by going, and it was very worth it."
— Frankie Fontana
Programs are open to everyone "if they express an interest and they maybe want to do something half the day that's a little more hands on for something that they're passionate about," guidance counselor Rochelle Eaton said.
Fontana is not the first to go on this journey.
"We've had, in my time here at least five or six [students], if not more," said Director of Guidance Lawrence Wolff, who has been working at Glen Rock a total of eight years. "Whichever way they aim, we will be behind them and do our best to get them there."
After graduating, Fontana is planning to put her skills to use, whether that be working in a salon, being a makeup artist, or hair stylist.
"I love what I do and I'm so grateful that my guidance counselor and my parents were so supportive and accepting" Fontana said, "Once I graduate high school, I don't want to go to college, and especially in a town like Glen Rock, that's very rare."
About the Writer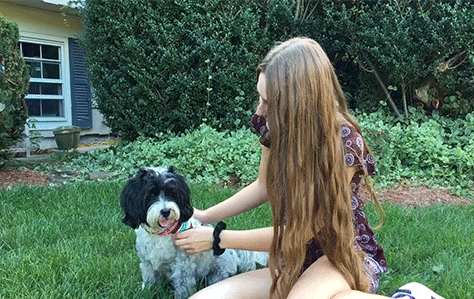 Christine Nappi, Copy Editor
Christine Nappi is a senior at Glen Rock High School and this is her second year writing for The Glen Echo. She plays softball, loves to write and tell...