Back to school for parents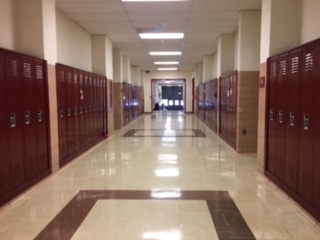 Parents attended the annual back-to-school night, navigating through the hallways to get to their children's classes on time.
This years' back to school night was held on September 29. On back-to-school night parents get the chance to meet their children's teachers and hear what they have planned for the upcoming school year.
"I wouldn't say I enjoy going, but I like to meet the teachers and see their faces so if later I have to email them, I know who I am talking to," parent Joan Fisher said.
Many parents like the idea of meeting the teachers and introducing themselves. Parents will sit and listen to each teacher for approximately ten minutes to get an overview of the syllabus. This includes the curriculum, projects and field trips.
"I like to see what the year is about, especially when they hand out a syllabus," Fisher said.
About eight hundred parents began the night by filling the hallways after listening to an introduction by Principal John Arlotta and Vice Principal Michael Pasciuto. Parents then proceeded to their child's first period and followed their children's regular schedule. Art teachers fill their classrooms with students completed artwork from the first few weeks while core teachers informed parents about lesson plans and grading policies.
"I can put a face to a name and so if I have to contact them it's easier to do," Mrs. Ann Comarato said.
Comarato, an English teacher of thirteen years, is no stranger to back-to-school night. Comarato explained that it is hard to for parents to get to know the teachers right away, but can familiarize themselves in the case of later communications. Comarato, who has taught at other schools, has done forty two back to school nights and is familiar with the process.
Back to school night is a tradition that occurs nationwide, and is informative to many parents. In past years, teachers have tried to stick to the same general routine and parents try not to miss out on this night. Back to School Night will continue next year and for many years to come. Some parents look forward to it while others dread it.
"On a scale of 1-10, I would rate the teachers a 10. I really like them," Fisher said.