Hidden masterpieces rediscovered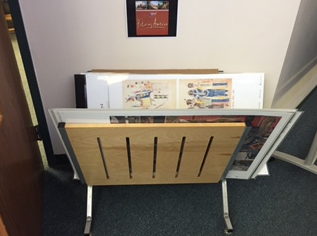 The media center became home to forty pieces of American art in Jan. 2008, all works generously provided through the We the People program.
The program was launched by the National Endowment of the Humanities working alongside the American Library Association. These pieces were captured through twenty double-sided posters, displaying not only classical paintings, but photographs, silverware, architecture, quilting, and pottery as well. This collection of posters, named Picturing America, were sought after by Media Specialist Linda Hartman. The Picturing America project launched in 2002, ending its successful run in 2009.
"I love art and introducing art to different classes," Hartman said. Applying for a grant in order to receive these masterpieces was a no-brainer for Hartman. Along with recognizing the vital tool it can become in the classroom, she also carries a personal love for the subject from her previous work in art and antiques.
According to Hartman many teachers have used them, even for classes where American art may seem completely unrelated to the subject. The angles in the Walter Evans' photograph, titled Brooklyn Bridge, were used in a math class, and has been used in a French class, along with American Literature and History classes.
"They're great to use for primary resources," Hartman said. "It's across the curriculum. Everyone can use them."
Mr. Troy Kroft, a frequent user of the collection in his Art History classes also agrees. He said, "It's like seeing the pictures in real life. They're masterpieces we can view without leaving the classroom."
Despite their past popularity, knowledge of the media center's Picturing America collection is somewhat uncommon. Many students and teachers are virtually clueless when asked what the Picturing America collection is. One student, upon being recently shown these works of art, took a rather large interest in them.
"This is actually pretty interesting," he said, examining an Edward Hopper painting named House by the Railroad. "It's weird how I haven't heard of it until now."
According to the National Endowment of the Humanities, "Picturing America served as an intellectual gateway for students Across America, one dedicated to using the arts to educate today's young Americans"
The works extend from Copley's famous painting of Paul Revere, 1768, to the famous photograph Migrant Mother, taken by Dorothea Lange. The two come together to emulate the American spirit and history of this country.
Although the project's history may be in the past, its legacy paves a promising future for Picturing America. Recently, The County Election by George Caleb Bingham was exhibited, as a nod to the 2016 presidential election coming up in a few weeks. Even if students don't have a class where Picturing America was used, they are always free to view in the media center, where one or two are often on display.