GSA hits the ground running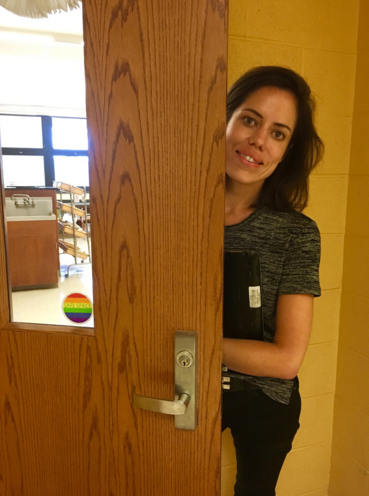 The Gay-Straight Alliance starts the year with 142 members signed up, 60 of whom are included in text message reminders. 
"So far we're starting off really strong, with lots and lots of people involved," Ms. Nicole Rusin, GSA adviser and art teacher, said.
Rusin is joined by Mr. Troy Kroft, art teacher and first-year adviser, in her second year with the group.
The first meeting will be on Thursday, Sept. 22, during lunch. Pizza will be provided for participants. The session will be explanatory, providing the students with details about the rest of the year, as well as information they will need in order to run for office. The advisers are considering whether to allow juniors to run for president, as opposed to only seniors. 
One of the goals for the year is to bring back guest speakers for night meetings. The hope is to not only draw the attention of students, but also to educate the club members and the rest of the student body.
Kroft started by helping former adviser, Ms. Phyllis Sneyers, the former choir director, with t-shirts and  posters.
He likes to stay as involved with the school as possible. When the opportunity to be a GSA adviser arose, he jumped on the opportunity. He works in the art department with Rusin, so he knows they can get a lot done working together.
"I think any club that bills itself as an open and inclusive place for kids to be is a huge benefit… I've seen the way that the GSA changes the dialogue with students. Suddenly, being gay or being different or just not fitting in is this thing you can talk about and address it. Whereas ten years ago, being out in school was sort of tricky because you didn't have anyone to talk to," Kroft said.
The advisers hope they can act as another resource for students and bring an overall sense of community and support.
The GSA has an annual assembly that it holds for the middle school, in which members share their experiences. They then break out into classrooms where the middle school students have an opportunity to ask questions.
It is under consideration that this year the Day of Silence, an occasion where all students can choose to show their support by remaining silent, will be moved to the end of Ally week. The week will be spent educating students and will end with the chance to use what they have learned.
"It's a safe haven. It's a place to be. It's a way to let the younger kids know it's okay to be who they are," Bella San Lorenzo, senior and fourth year member, said.