Seniors create and design t-shirts
Free hugs, dogs in top hats, Star Wars, and blue octopuses. Students taking Art Major III and Media Arts created t-shirts with their own designs using screen printing.
After their finals, Harrison Gale ('16) and Mandy Rosengren ('16) could be found in the art room, creating t-shirts. Through their Media Arts class, the girls chose to stay after they finished their senior finals to complete their projects on their own time.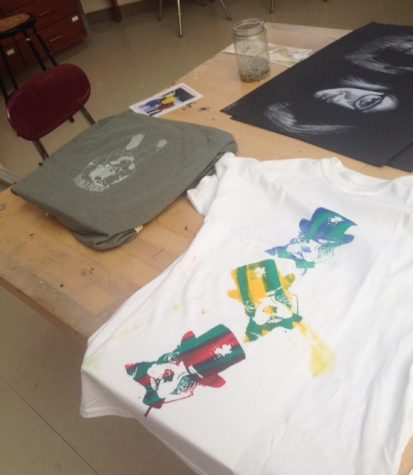 Rosengren created and printed two designs, one being a symbol for world peace.
"The one I made first was the world peace one, and it took me a little while than I had hoped because I found a picture I wanted to use but it was blue and green, so I had to do a lot of work just redesigning the image," Rosengren said.
Rosengren also printed several shirts with the image of a dog wearing a top hat. She created the frame to make for a birthday gift for her brother.
"Now my whole family wants one," Rosengren said.
Students are able to select their own image and print it themselves onto shirts, posters, or other materials using screen printing.
Creating an image that's ready to be printed takes two days at minimum. The process includes many different steps in order to create a frame that can be used to print the image. However, once the frame is completed, one can use the fame frame over and over again to print the same design multiple times.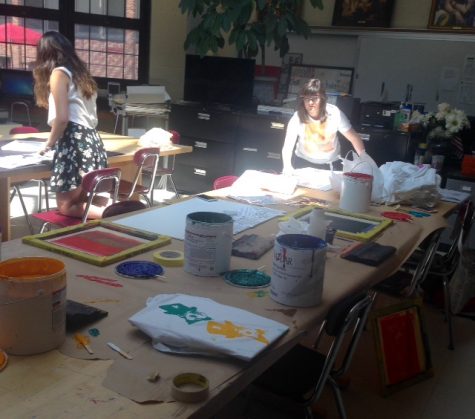 "At first I was thinking what I wanted to do for the project, and then I thought it would be cool merging Star Wars with propaganda," Gale said.
Gale also created two designs for her shirts, both Star Wars themed. One shows an image of Luke Skywalker and reads 'Join the Rebel Alliance' and the other shows an image of Princess Leia and reads 'Vote Leia for Senate'. Gale prints these designs in a variety of different colors and gives them to her friends and family.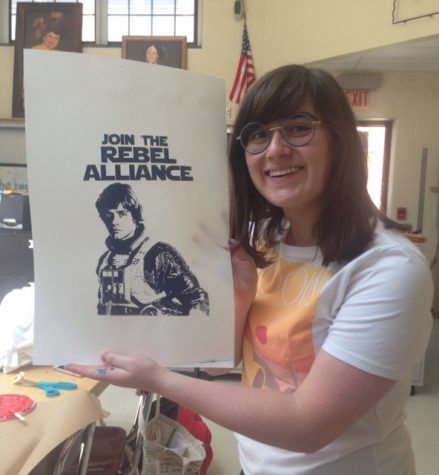 "I think my favorite part of creating a t-shirt is being able to make something for another person," Gale said.
About the Contributor
Patricia Whyte, Senior Staff Writer
Patricia Whyte is a senior. This is her second year writing for the Glen Echo and she's super pumped about it.