Senior meditates on new life path
The leotard is in a drawer now, folded precisely like an imitation American flag. It hasn't been touched for months, although it was once worn every day.  
The girl who once wore gymnast apparel now contorts her body into a static pose, no longer flinging herself along a balance beam like a twirling baton. She has foregone movement for repose, flipping across a mat for stasis.  
Sydney Struble would not have considered yoga a year ago, when she was still a dedicated gymnast.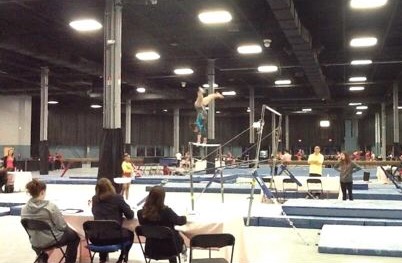 A year ago, an average day for Struble would have included hours of rigorous training–tumbling and twisting across the floor; charging at the vault, launching herself into a spiral, or a flip or a twist; prancing across the balance beam; and flinging herself across the uneven bars. Sydney Struble knew what it felt like to fly.
Struble knew and understood the demands of a full-time commitment.  
Struble first stepped into the gymnasium at the age of four. There was a spark in her that the other children didn't have. Unlike the other children, she would move forward into the realm of gymnastics, participating in intermediate classes next, and then advanced; by the time she was seven, she would participate in competitions.
At this time, it was clear to those who witnessed Struble's development as a gymnast that she showed no signs of stopping. Gymnastics became a part of her everyday-regime. Gymnastics was her life.
From the age of seven, she would attend four-hour practices, five days a week. Her world literally revolved around the sport; her academics, social life and any other interests she had were put aside for gymnastics.
Whatever time she had left at the end of the night after practice was devoted to her studies. Despite the fact that she had a full-time career as a gymnast, she maintained straight A's throughout her academic career.
"It was a family affair. Everybody was involved with it, whether it was to support her or to drive her places or to cheer her on or to lift her spirits or to pay a bill, at the end, everybody in the family showed up, and it took up an enormous amount of our time," Struble's mother, Melanie, says.
The last few months that Struble spent participating in gymnastics had been grueling. Her body ached; she dragged herself to the gym every day, and endured several exhausting hours of training, which left her in a constant state of fatigue. When she returned from practice, around 9:30 p.m. every night, she would find herself drowning under an accumulation of unattended projects and homework assignments–not to mention any upcoming tests or quizzes.
For the average student, this type of lifestyle would be unmanageable. This was her everyday reality.
But she was tired; and she was finding that juggling between gymnastics and academics was becoming increasingly demanding of her time, especially as she entered the college application process.
She spent very minimal time with her friends. As the months grew closer to the time of her break, her levels of anxiety reached all time highs.
"It was just very overwhelming, very stressful. I didn't have time, I didn't have a social life."
She felt the floor fall out from under her as she clung on to the only thing she knew: gymnastics. Yet, at the same time, this was what had been pulling her down. Her time at the gym now felt like a full-time job; her life pulled her in multiple directions and her options became blurred.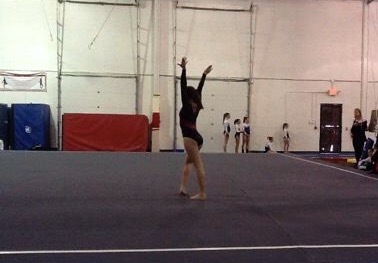 In mid-July of 2015, Struble once again stepped into the gym, as she had thousands of times before, unaware that she would never return as a competitive gymnast.
This time, something was different within her, as it was clear that there had been a rift in Struble's relationship with gymnastics.
Her body hurt. Gymnastics had stolen from her time with friends, family, academics, and time to grow as an individual. She needed time to focus on the other central aspects of her life.
On that day, she planned to take time off from the sport to allow herself to heal–both physically and mentally.
Within this break, however, she found that taking a step back from the high physical and mental demands of gymnastics provided her with more relief than she expected. She never expected for this break to become permanent.
As she stepped away from gymnastics, embarking on her month-long break, she knew that she had options if she returned. Instead of spending five days per week in the gym, she could spend three days per week, or only two, or eliminate her participation in competitions altogether. In addition, she had the choice to quit the sport entirely.
She tossed her bag onto the floor, as she had thousands of times prior to this. Emotions filled her head, like a cloud, and nothing seemed to make sense.
For Struble, to walk away from the only thing she knew was truly a difficult task, stepping into the life of the average, boring teenager was a life she was unfamiliar with herself, but a life she had observed in many of her peers–a life she wanted to know for herself. For Struble, quitting gymnastics served as an opportunity to explore herself and grow as an individual.
Her mind was no longer with the sport, and, for this reason, the sport was taking a toll on her body. Every fall, strain, hit, or miss, left her with a numb reminder of her slipping dedication.  She could not bear it any longer.
Within a month, Struble allowed herself to refocus on what truly mattered: her health. She focused not only on her physical health, but also on her mental and emotional health. She took advantage of this time to surround herself with friends and family, concentrating on her academics, and taking a few yoga classes, as she had done with her mom many times before.
"We've always said to Sydney that she could quit at anytime because she is the one who is showing up on the mat, showing up in the gym or showing up to jump around on the uneven bars," Melanie says. "But our rule was always that, if she ever felt like she needed to quit, she had to give it one more month and if, at the end of that month, she still felt like she wanted to quit, then her decision was made."
One month passed, and as each day drew to a close, she found herself dreading the idea of returning to the gym. She was on level nine, one of the highest levels offered at Aeon Fitness and Gymnastics, the gymnasium that she had currently been training at.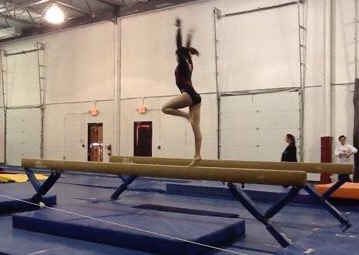 Struble spent months prior to her decision reflecting on the years she had dedicated to this sport. Although she says her love for the sport will always resonate within her, she decided, after thirteen years, to walk away.
"It was a very grueling decision–it involved months of crying and a lot of reflection." Struble says.
"More than anything, it was difficult to watch her struggle so much. We just wanted what was best for her," Melanie says.
"She committed herself since she was four years old and that's dedication beyond anything I've ever seen and, at the end of it all, she just needed to make the decision that felt good for her and we were going to support it no matter what."

Yet one does not simply walk away from gymnastics. One must flip, contort, and throw oneself into leaps to escape its snare.  
Struble did exactly that.
After leaving behind the sport of gymnastics, Struble took on a drastically different practice: yoga.
Yoga, by definition, is a spiritual discipline that is widely practiced for health and relaxation using methods of breath control, simple meditation, and the adoption of specific bodily posture.
On a typical weekday afternoon, one might find Struble at Naturally Yoga holding poses such as Tree Pose, Downward-Facing Dog, or Warrior II, for several seconds at a time.
At times, she takes a pause from the session to walk around and assist the instructor in adjusting others' poses. She does this as a part of her yoga teacher-training in order to gain experience so that she, herself, can conduct a yoga class on her own.
However, she must attend several of the offered classes at Naturally Yoga to do so, including Level 1, Mixed Level, Kundalini Yoga, Slow Stretch, and, in addition, she must attend readings of the sacred text.
The training program is highly intensive: from September to June, she spends a total of fifteen hours in the yoga studio during the first weekend of each month.
Over the course of the program, she will have spent a minimum of 370 hours in the studio, devoting every second to her potential career as a yoga instructor.
Entering the studio each day, Struble maintains a desire to learn and perform. Yoga has taken the gradual effect of transforming her world before her eyes.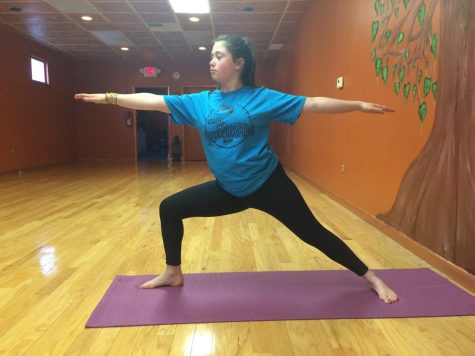 "Yoga has taught me to work on accepting myself and other people, as well as not judging anyone or anything," she says.
The sport of gymnastics requires one to maintain a certain lifestyle that is comprised of strength, flexibility, and high levels of dedication. The practice of yoga, on the other hand, represents an external approach; the ways of yoga highlight one's self-acceptance and general appreciation of nature and the world that surrounds us.
This was one of the main reasons Struble took on the journey to becoming a yoga instructor. Her ongoing struggle between herself and the sport of gymnastics, and everything in between, was a key determinant that she needed to make a change within herself to fully appreciate the beauty of life.
Throughout the completion of each pose, Struble embraces the energy that flows throughout her. Yoga serves as an escape from the stress of the world and allows one to heal through the power of movement and relaxation. Struble's body, throughout her gymnastics career, was in need of rest and rejuvenation; her mind needed this as well.
Her positive energy in the studio radiates throughout those around her—which is a crucial component of being a yoga instructor.
"You have to have a love of yoga. You have to have a desire to work with people," says Sheryl Edsall, Struble's inspiration and primary instructor throughout her training, "from the beginning, she had the desire to do it."
Out of a class of eleven adults, participating in the teacher-training program, Struble is the youngest participant, at the age of 17 years old.
Although she maintains a calm and quiet demeanor in training, she brings out the teachings she learns in extraordinary ways.
"It's been really nice to see her in a group setting but also how she embodies the teachings and how she brings it back out," Edsall says. "She receives it very quietly. One might say, 'Is she really getting it?' She gets it. That's what's so sweet; she gets it and she's able to give it back out."'
Within the next two months, Struble will have spent another 30 hours in the studio, followed by her graduation from the program.
However, it is not as simple as it sounds. The key to completing the teacher training program successfully, with the experience needed to teach a class on one's' own, is for one to leap out of his or her comfort zone, leaving it behind entirely.
Acceptance is a central aspect of yoga; it is an attribute that is emphasized in every class that one takes at Naturally Yoga. Struble has learned that, no matter how skilled one may be, everyone has room for improvement– thus, there is no room for judgement.
On April 3, Struble had the opportunity to teach a class on her own. Each student in the program conducted their own 45-minute class, which was open to the community. Donations were encouraged but the yoga classes themselves were free.
Struble's friend, Julie Singh ('16), attended the class and spoke very highly of Sydney's first class.
"She seemed to be completely in her element, and that's why I think she was able to teach the class so fluently. She was so confident and that was reflected through her instruction" Singh says.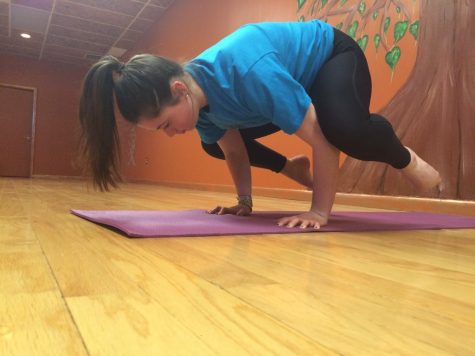 Throughout her journey, Struble has developed through her devotion to both gymnastics and yoga. Just like she once thrived in gymnastics, she now thrives in practicing and teaching yoga.
"I see tons of potential in Sydney. I see that she can have anything she wants," Edsall says.  "First of all, she has an amazing family, friends and that's everything. Again, for her, making this commitment at her age, that means she has such a gift to want to serve that anything she wants she can do."
Class begins. She walks into the studio and unrolls her mat, spreading it across the wooden floor. There is calmness in the array of gentle greetings and people fill into the room. She sits with her back against the wall and breaths in deeply.
Class begins with a deep inhale and a long exhale, following another inhale and an "Om"– the most sacred mantra that begins each class.