Meaningful art livens courtyard
While most students are busy cramming for finals, Mrs. Kathleen Walters AP U.S. History students and Ms. Mara Siegel's art classes are spending their time creating poignant artwork in the courtyard. Over the past few days, stencil artwork has been popping up all over the pavement and walls of the courtyard.
The teachers collaborated to share the idea of spreading powerful messages through artwork. Walter taught students about the importance of art's influence on politics (as propaganda) and Siegel handled the art portion.
The pieces represent street art that can be found all over the world and convey feelings and messages.
The work done by the students shows clever politics in the form of spray painted art. The drawings put clever spins on current events such as the presidential election and the ongoing controversy of peace versus war. Not all pieces however, have a political view. Many simply express the artists view on a certain topic or important message.
"It's great because some of them you really have to look at and think about for a while," Siegel said regarding the messages portrayed through the art.
One piece created by Alex Aronson (17') depicts opinions about presidential candidate Hillary Clinton. This is just one example of the clever political slogans students have transformed into art.
The artwork gives the courtyard a colorful flare that is interesting to look at and creates a lively atmosphere for students passing by. It also lets students channel their feelings and opinions through their art in a very public way.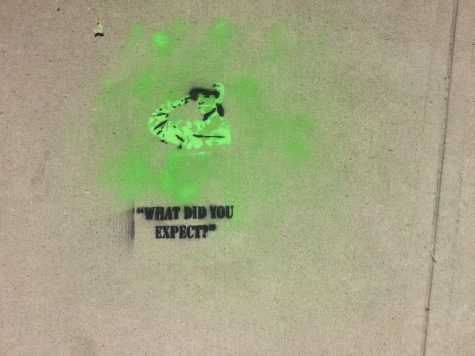 Unfortunately the art will not be there for long due to the types of materials used. Once the paintings are worn by the rain and other weather forces they will wash away and the courtyard will be left without art once again.