Moravian Mike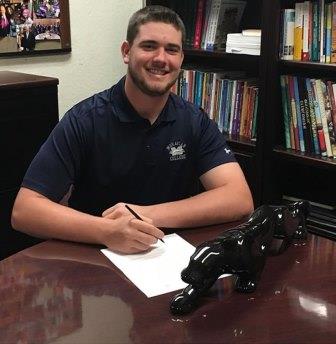 The score was tied at 34 when Michael O'Hagan walked to the line of scrimmage to protect Robert Ray as he kicked the extra point that could win the game and take Glen Rock to the North 1 Group 2 State Championship.
The ball was snapped and O'Hagan shot out of his stance to shed the pass rush. Ray's kick went up and made the score 35-34 Glen Rock.
O'Hagan turned and ran towards the 50 yard line to celebrate with the team as Coach Kurz sprinted onto to the field and lept into the air out of excitement. O'Hagan turned and hugged his friends and at that same moment his father made his way down from the coaches box.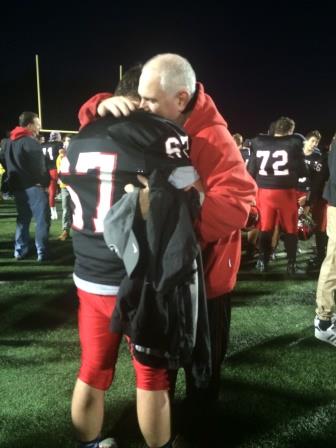 Mike's career culminated with this win in what he called the "most important game he's played in so far."
Mike turned and hugged his father, Michael O'Hagan, who had coached him since he had started playing football. This was a hug nearly ten years in the making.
"It was a nice end to our run as far as football goes and him being my coach," O'Hagan said of his father.
O'Hagan's father, Michael, played college football at Lehigh in Bethlehem, Pa.
"It was funny I always joked with his father that he was gonna end up at a school in Pennsylvania," Coach Jim Kurz said.
O'Hagan is committed to play football next year at Moravian College which is also in Bethlehem and just a short 10 minute drive from his Michael's alma mater.
Both Kurz and Mike emphasized the impact Michael had on his football career thus far.
"We probably felt we could be a little bit harder on Mike," Kurz said. "He definitely had it worse than any player who has ever been here."
Kurz went on to say how Michael's influence turned him into a stronger person and tougher player. He also said how there's nothing any coach at the next level can say or do that Mike hasn't already dealt with.
O'Hagan led the team this year in forced fumbles with three, tied second for sacks with two, third in tackles for loss with five and a half and finished sixth on the team in tackles with 32.
Mike's two best games came against Waldwick/Midland Park who were sectional runner up's last year and Hawthorne in the semi-final round of the state playoffs.
Against Waldwick/Midland Park, Mike recorded four tackles, two for loss, a sack and a forced fumble.
While against Hawthorne in the state semifinals, he recorded eight total tackles which was a career high for Mike in a single game.
Mike has said that he believes he will be playing defensive end at Moravian this fall.
Moravian College finished second in the conference this past season with a conference record of 7-2 and an overall record of 8-3.
John's Hopkins who finished first in the conference held a 9-0 record in conference play as well as 11-1 overall record. Hopkins was ranked 13th in Division III.
Mike hopes to compete for a conference title in his four years there as well as a national title.