GSA meeting wraps up year, Brodhead's tenure as co-adviser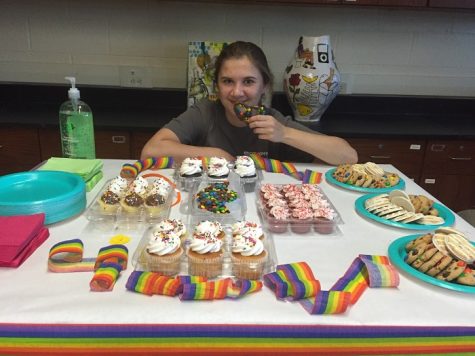 The Glen Rock High School Gay Straight Alliance began seven years ago. Triplet sisters went to Mr. Dan Brodhead, a guidance counselor, and made a proposal for the club. Ms. Phyllis Sneyers, choir director, became a co-adviser to the club. The proposal was brought to a Board of Education meeting, and the GSA was born.
In the beginning, many were hesitant, particularly parents. In 2009, the first Day of Silence was held. The school got calls from parents, many of whom refused to let their children attend school that day.
The principal said if he had to shut down the GSA club, then he would shut down every other club as well. Since then, the Day of Silence has been a day when those in support of the LGBTQ community pledge to remain silent.
"There are people that said this would never happen," Brodhead said.
Seven years later, the GSA continues to have one of the biggest sign ups at the club walk around. Regardless of how many participate in club meetings, it shows how much support the club gets by students and faculty.
"It's a place where everyone is accepted. When you learn to accept yourself and you learn to be yourself, it completely changes you," Jordan McMahon, senior, said.
GSA meetings happen roughly once a month. In these meetings, students and co-advisers, Ms. Nicole Rusin, art teacher, and Brodhead talk about students' issues, have guest speakers come in, and prepare for events such as the Day of Silence.
The co-advisers typically organize and lead meetings. However, these advisers take on many more responsibilities when they make the commitment. This includes supporting the students, encouraging their ideas, and running interference for them when necessary.
According to Rusin, "This has been hands down the best thing I've done in my teaching career."
Nick McCrae, sophomore, believes the GSA is "so much more than everybody thinks it is. It's not just a place where confused people come. We don't generally talk about the things people think we talk about. You can share your opinions on anything."
Brodhead, who will step down from his position as a guidance counselor at the end of the year, believes that the club has affected the lives of many students.
"Kids struggling, kids hanging together even though they're struggling, it's awesome," Brodhead said. After working in public school education for 35 years, the GSA "may be one of the best things I have ever done."
Brodhead believes it has turned him into a better educator and a better man.
Wednesday, June 8, was the last GSA meeting of the year. Sneyers, who retired in 2015, made a guest appearance.
"This has changed my life for the better," Sneyers said.