Former varsity hockey coach hands it off to professional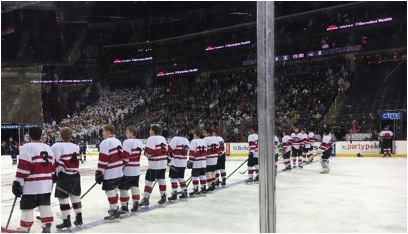 Coach Sergio Fernandez announced that he will be stepping down as head coach of the high school varsity hockey team. After multiple interviews with different candidates,  Anthony Yelovich was chosen for the position.
The announcement was made after the hockey team's championship loss at the Prudential Center. Coach Fernandez has been part of the program for the past 14 years. Working as a Spanish teacher in Glen Rock Middle School, as well as the coach of the middle school boys' soccer team in the fall and the girls' softball team in the spring, it was a lot to manage with high school hockey in the winter.
"If I lived closer I definitely would never have left the hockey team, but it's a long commute and a huge commitment," Coach Fernandez said.
Anthony Yelovich, a former professional hockey player in Europe in the Austrian League, looks to bring his knowledge and experience that he has learned from tremendous teams and blend all of it together.
"It is really important to me that the hockey players of Glen Rock are role models in the community," Yelovich said.
Yelovich has experience playing since the age of 3, and he has been playing for the last 20 years. He's been working as the head coach of Nutley High School for the past 3 years. He has also been coaching an 18U AAA team at the Jersey Hitmen. When the coaching position opened up at Glen Rock High School, Yelovich said it would be a great opportunity to be able to coach a team with past success.
"Glen Rock is a great town and Sergio has built a great program. It's a very attractive position because of its recent success," Yelovich said.
Since his professional career, Yelovich has been keeping busy with running camps, clinics, and personal training for over 9 years now.
Coach Fernandez sat in on all of the interviews that were held for the coaching position.
"I do a lot of the work as far as scheduling, dealing with the bus situation and trainer. Some of what Mr. Frank Violante does, I was doing. I was almost working as his assistant for a while, as well as being the hockey coach," Fernandez said.
The new coach needed to be aware of the high demand for academics for the students in this building and district overall.
"Sometimes athletics are more of an importance in other school districts, whereas at this school there is a higher standard for academics where the school puts that before any sports, and the coach we were looking to higher really needed to see that in the students and understand them in that way," Fernandez said.
Yelovich's experience in college also prepared him with skills and experience. He played NCAA Division 1 College Hockey at Sacred Heart University for four years before taking on a professional career in hockey.
One of Glen Rock's incoming seniors, Peter Cassidy, expressed his conflicting feelings of loss and gain in the changes of coaches.
"I'm sad that he left, but the new coach is extremely experienced and he will bring a lot to the team," Cassidy said.
With practices starting November 7th 2016, under permission of the NJSIAA allowing the team to start. The team looks forward to a great season.