More coaches stepping down than usual this season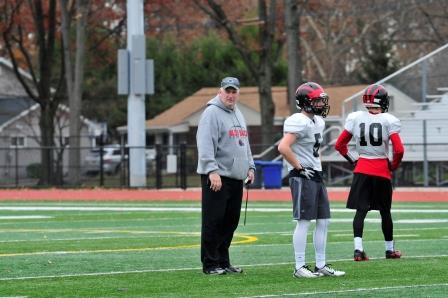 Despite the success that Glen Rock athletics had with three state sectional final appearances this past year, many teams will be losing coaches who helped their teams in recent seasons.
Although many school years include a coach or more announcing his or her retirement at the end of the year, the 2015-2016 school year showed a higher number than usual when it came to coaches stepping down. The football, soccer, and hockey team each had one or more coaches not returning for next season. Athletic Director Frank Violante says that although more coaches are leaving than usual, he is still fortunate for all they have accomplished.
"We've been pretty fortunate here at Glen Rock," Violante said. "We've had the same coaches in the same sports for quite a few years."
Although each coach has his or her own personal reason for stepping down from the respective teams, many have stepped down in order to focus on other things, such as spending more time with their families.
"As time goes on, people want to do other things," Violante said. "But that's the nature of the beast. People aren't coaching as long as they used to in the past."
Among the coaches stepping down is Sergio Fernandez, who led the hockey team to its first state final appearance. He, along with assistant coach Rob Amos, decided to step down in order to spend more time with his family. The girl's soccer coach, who just finished her first season at Glen Rock, stepped down, as well. The boy's soccer coach, Paul Cusack, is also stepping down following the team's season.
Violante says that even though he is sorry to see such talented coaches leave the Glen Rock athletic program after the relationship that he has built with them, he knows that the he still must continue to help the athletes in any was possible.
"I'm sorry to see [them go]," Violante said. "When you work with people for a long time and they get to know you and you get to know them and you have nice camaraderie between each other, they understand what I'm looking for and I know what they're looking for as coaches. But that's my job. You have to move on, and the most important things are the student-athletes here in Glen Rock."
Since the conclusion of most of Glen Rock sports, Violante has begun filling vacant positions for next year. Violante believes that, by now, all of the retiring coaches have been replaced. This did not come easy, however, for the process to find the perfect coach came with many obstacles that have to be overcome.
"It wasn't easy," Violante said. "Mr. Arlotta, Mr. Pasciuto and I spent time interviewing candidates. But we believe that we found some quality people who will do a good job here."
With all the new coaches, Violante is somewhat concerned, considering all the changes at Glen Rock. However, he knows that teams will be able to overcome the challenges that next year brings.
"We'll get through it," Violante said. "We always do."