Senior week quickly approaching
As the school year winds down, sports are over for the year, and underclassmen prepare for finals, the Class of 2016 has about two weeks left of school.
Now, you may ask yourself, what are seniors doing for the next two weeks?
Obviously, senioritis has kicked in by now and the Class of 2016 is preparing to graduate in a few weeks and for some, this could be the last time they walk through these halls. For others, Glen Rock is a stepping stone and these students won't forget where they came from and cherish this town forever.
What are seniors doing to prepare for their commencement?
Next week, the week of the 13th, the Class of 2016 is preparing to take their final exams. The exam schedule is as follows:
English
Wednesday, June 15th, 2016 – Exam Day 1 – Slot 1 – 7:50am – 9:50am
World Language
Wednesday, June 15th, 2016- Exam Day 1 – Slot 2 – 10:00 – 12:00pm
 Science
Thursday, June 16th, 2016 – Exam Day 2 – Slot 1 – 7:50 – 9:50am
History
Thursday, June 16th, 2016 – Exam Day 2 – Slot 2 – 10:00-12:00pm
Math
Friday, June 17th, 2016 – Exam Day 3 – Slot 1 – 7:50-9:50
As school policy follows, seniors are exempt from final exams if they carried an A- average or better in their courses every marking period  and through June 1st, they are exempt from the final exam in that course.
Unfortunately for seniors, they don't get off that easily. The following Monday, seniors have their service day which includes helping out at the local elementary schools and at the arboretum in town, and Tuesday the 21st, the Class of 2016 has their first graduation practice and receive their cap and gown for commencement.
Luckily for the seniors, they are rewarded for their hard work over the course of their high school careers with a trip to the beach on Wednesday the 22nd, a fun day in the sun for their final day before graduation.
That Thursday the 23rd, the community gives a warm send off to the Class of 2016, where they will be wished the best of luck in their future endeavors.
The partying doesn't stop there as that night and into the morning, the Class of 2016 has their grad ball, in which their parents have been preparing for the surprise and the "night in the dark" for several years now.
Finally, the Class of 2016 returns Friday morning for their senior brunch at 11 a.m. This is one last gathering of this year's class as a whole. They will receive brunch and their diplomas as Glen Rock High School gives them a warm send off into the summer.
About the Writer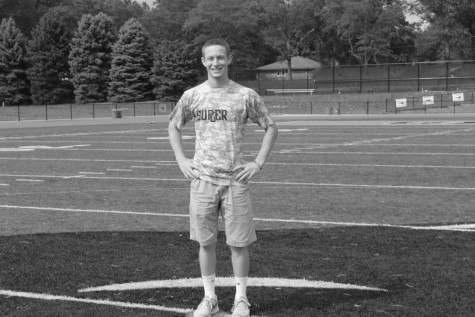 Max Felsenstein, Managing Editor
Max Felsenstein is a senior at Glen Rock High School. For the past two years, Max was the Sports Editor for The Glen Echo. Max enjoys playing baseball...